Lynn Weidberg Morgan '89 never misses an opportunity to strengthen her Cornell connections. A volunteer for her class, a board of trustees member for Cornell Hillel and a loyal donor, Lynn gives back in more ways than one and inspires others to do the same. The pins she collects serve as a visual reminder of the ways she strives to build lasting ties for herself and future Cornellians.
The passion Lynn feels for Cornell began long before she stepped on to campus her freshman year. Lynn's numerous family ties to Cornell include: her great uncle Howard Blaugrund '30, grandpa Daniel Blaugrund '34 (BA) '37 (LLB), sister Suzanne Weidberg Klein '96, uncle Charles "Chip" Blaugrund '67, and dad Bert Weidberg '62.
"I can remember back to very early Thanksgivings, where literally we would end Thanksgiving by singing the alma mater," Lynn says. "It was a very warm memory from early on."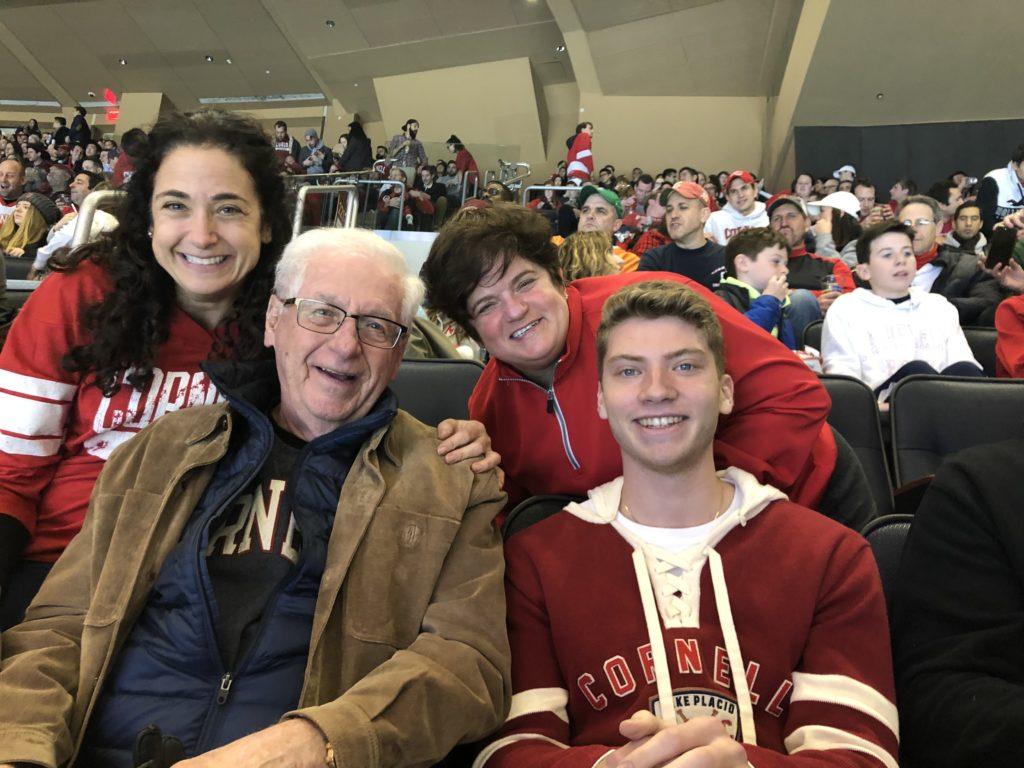 Lynn lived in the same dorms her first year as her father did in 1958. A knitted Cornell blanket hung from her wall—the same blanket her great grandmother had made for her father for his freshman dorm room.
These connections, and those Lynn made as a student in the School of Hotel Administration, helped launch her career, led to lifelong friendships, and inspired her to give back starting immediately after graduation. Each pin she collects helps tell her Cornell story.
The Hillel pin
One way Lynn gives back is by serving on the board of trustees for Cornell Hillel. The organization helps provide a safe, inclusive community on campus, and this fall alone over 1,500 students have attended Hillel events.
"I feel fortunate to be involved in an organization that's having such an impact on current students," Lynn says of Hillel, which she notes can help students feel like part of a smaller family community rather than getting lost in the scale of the university.
The CAAAN pin
Lynn participates as a member of the Cornell Alumni Admissions Ambassador Network (CAAAN), as well, which brings together prospective students and alumni to help applicants navigate the admissions process. She enjoys being a resource for families starting down their own Cornell paths.
The Class and Reunion pins
Lynn is an avid supporter of her Class of 1989 and a member of her class council. She served as a Reunion Campaign volunteer for her 30th Reunion, asking classmates to join her in supporting the university philanthropically.
I consider Cornell to be one of my most important philanthropies.
—Lynn Weidberg Morgan '89
The Cayuga Society pin
Lynn has made a gift to Cornell every year since graduation and plans to continue doing so for many years to come. She is a proud member of the 1865 Society for loyal donors, the Tower Club, and the Cayuga Society for planned giving.
"I always knew it was important to support things you care about," she says. Lynn directs her giving each year to multiple areas she is passionate about, and says she is glad Cornell offers that ability to direct gifts to particular scholarships, clubs, and colleges.
The Sesquicentennial and other event pins
In addition to the myriad of ways Lynn gives back, she makes a point to attend any Cornell events she can as a volunteer for the Cornell Club of Washington and the Cornell Hotel Society. She encourages others to attend events to make new friends and reconnect with classmates.
"I find that having the shared experience of being fellow Cornellians accelerates your friendship and camaraderie so much, it's like you're already starting your friendship at chapter six," Lynn says.
Community connections
The Morgan family ties to Cornell continue today with a fourth generation. One of Lynn's three children, Daniel Morgan '23, is enrolled in the College of Agriculture and Life Sciences. The red Cornell blanket Lynn's great grandmother knitted is now hanging on Daniel's dorm room wall—a meaningful piece of family and Cornell history.
Although some things have changed since Lynn attended Cornell, the sense of community she felt remains strong for current students, thanks in large part to the continued involvement and support of alumni like Lynn.
"I grew up with a great message of how important Tikkun Olam—repairing the world—is," Lynn says. "I consider Cornell to be one of my most important philanthropies. Cornell gave me so much and I am dedicated to do my small part—through time, treasure and talent—to give it back and pay it forward. That's the best way of ensuring the next generation is taken care of."
This story originally appeared in the online-only spring 2020 issue of Ezra magazine.
This article also appeared in the Cornell Chronicle.