In early 2020, L. William Kay II '51 passed away from COVID-19 related complications at age 93.
Bill Kay's Cornell involvement deeply embraced the university; spanned across time, generations, and programs; expressed trust in university leadership; and inspired other Cornellians to give and to volunteer. He was a stalwart volunteer for the Class of 1951 and the greater Philadelphia region and held numerous other volunteer and leadership roles. His giving, originating in 1957 and continuing for over 60 years, encompassed a breathtaking array of university programs. He was recognized by Cornell as a Foremost Benefactor and a Frank H. T. Rhodes Exemplary Alumnus, and he was a member of the Presidential Councillors.
Among the many wonderful people I have met in my long career, Bill was a standout. He exuded a rare joy in giving to others.
—Fred Van Sickle, vice president Alumni Affairs and Development
Throughout his lifetime of giving and volunteering, Kay led with gratitude for Cornell. According to Kevin Mahaney, gift officer for Alumni Affairs and Development, Kay was "a true mensch."
Mahaney recalls one of several visits to Kay. "I visited him in his office and he had one of those old-fashioned metal card file boxes full of index cards. Those were his annual philanthropic gifts. This box was jammed! And Cornell was in there."
A Cornell start, a business begins
Among the first graduating classes of the School of Industrial and Labor Relations, Kay attended classes in the Quonset huts of early ILR fame. One would not have guessed that he would go into real estate and eventually have a building named after him on Cornell's campus! After graduating, he went into his father's and uncle's business selling condiments. Calling on plenty of Hotel School alumni, Kay credited his Cornell connections with his success in sales and marketing.
On the side, he got involved in building houses. Soon, the extracurricular business began to take time from the family business. Kay's uncle told him he would have to make a choice. Kay's dad urged him not to stay, but to strike out on his own—demonstrating his faith in Bill's aptitude for business. Years later, Kay told Mahaney his supportive father, Sidney G. Kay, Class of 1922, "was his best friend."
The former side-hustle became Kay's central business developing apartment communities on the East Coast. He remained deeply connected to Drexelbrook Apartments in Drexel Hill, Pennsylvania even when decades later it was time to sell the property.
Consummate volunteer
Bill Kay was "always one of our best leaders,'' according to Rip Haley '51, friend, classmate, volunteer, and fund-raising professional, including at Cornell. "We knew each other as freshmen together in 1947, but really got to know each other when Bill Jr. enrolled at Cornell. We both became heavily involved in Class of 1951 activities," says Haley. "I went to school here, worked in the development office for 16 or 17 years, and was always involved. But I never met another alumnus that had such a feel for the place."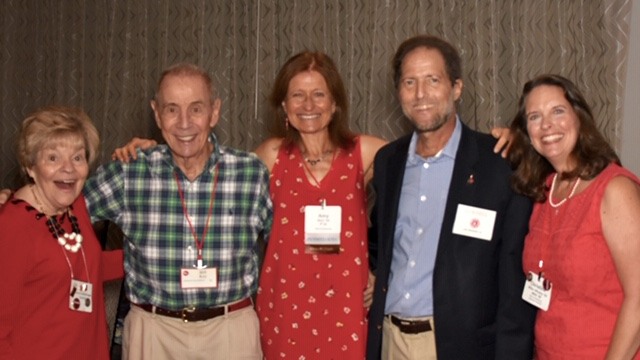 Says Haley, "from the time I knew him, in any semi-serious conversation, he always said he was very lucky to be accepted here. He felt very fortunate. He loved the place. I never met a more dedicated alumnus than Billy was."
Christine Miller Whaley '84, MBA '89 moved to the greater Philadelphia area after getting her Cornell MBA and got to know Bill Kay through the local club—she became the president of the Cornell Club of Greater Philadelphia—and the Tower Club committee. "Bill was an enthusiastic volunteer," she says. "He was willing to lend a hand and his expertise. Bill was a practical thinker, had a great memory for details, and his love of Cornell and relationships with people made him a fantastic fundraiser."
For years, Kay hosted the Philadelphia new student send-off event held at his Drexelbrook event center. Says Whaley, "Bill was always there and stationed himself at the door to greet each and every student and family. He was thrilled when he met a student who would be living in Kay Hall. During the formal part of the program, Bill would warmly address the new students and families and tell them that they were about to embark on the best four years of their life!"
The joyful giver
Throughout his nearly 73 years of involvement with Cornell, Bill Kay made an impression on many, including Fred Van Sickle, vice president for Alumni Affairs and Development. "He was a joyful giver," says Van Sickle. "Among the many wonderful people I have met in my long career, Bill was a standout. He exuded a rare joy in giving to others."
According to vice president for Student and Campus Life, Ryan Lombardi, "Bill was proud of being a founding member of Watermargin," a co-op welcoming of all students. Bill was one of a group of students who petitioned the university to open the inclusive living center. When told they would have to raise the funding to do it, they did. Bill may or may not have personally experienced bias at Cornell, but he knew it existed. "He was ahead of his time in his devotion to inclusion at Cornell," says Lombardi.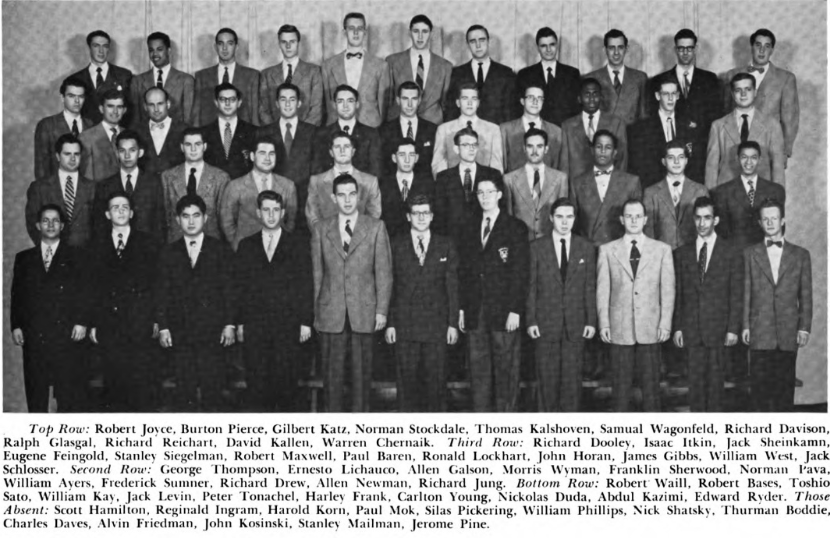 Years later, Bill made a significant unrestricted gift to the university, so that the president could direct the gift to the area of greatest need. President Hunter R. Rawlings III directed the gift to a then, new initiative that was completely re-envisioning Cornell's first-year student residential experience on North Campus and improving the residential experience for sophomores and upper class students on West Campus. In honor of this support and of four generations of the Kay family at Cornell, the university named Kay Hall on North Campus.
In 2019, Kay made a second significant commitment to the university, again unrestricted, inviting President Martha E. Pollack to direct his gift to the highest priority.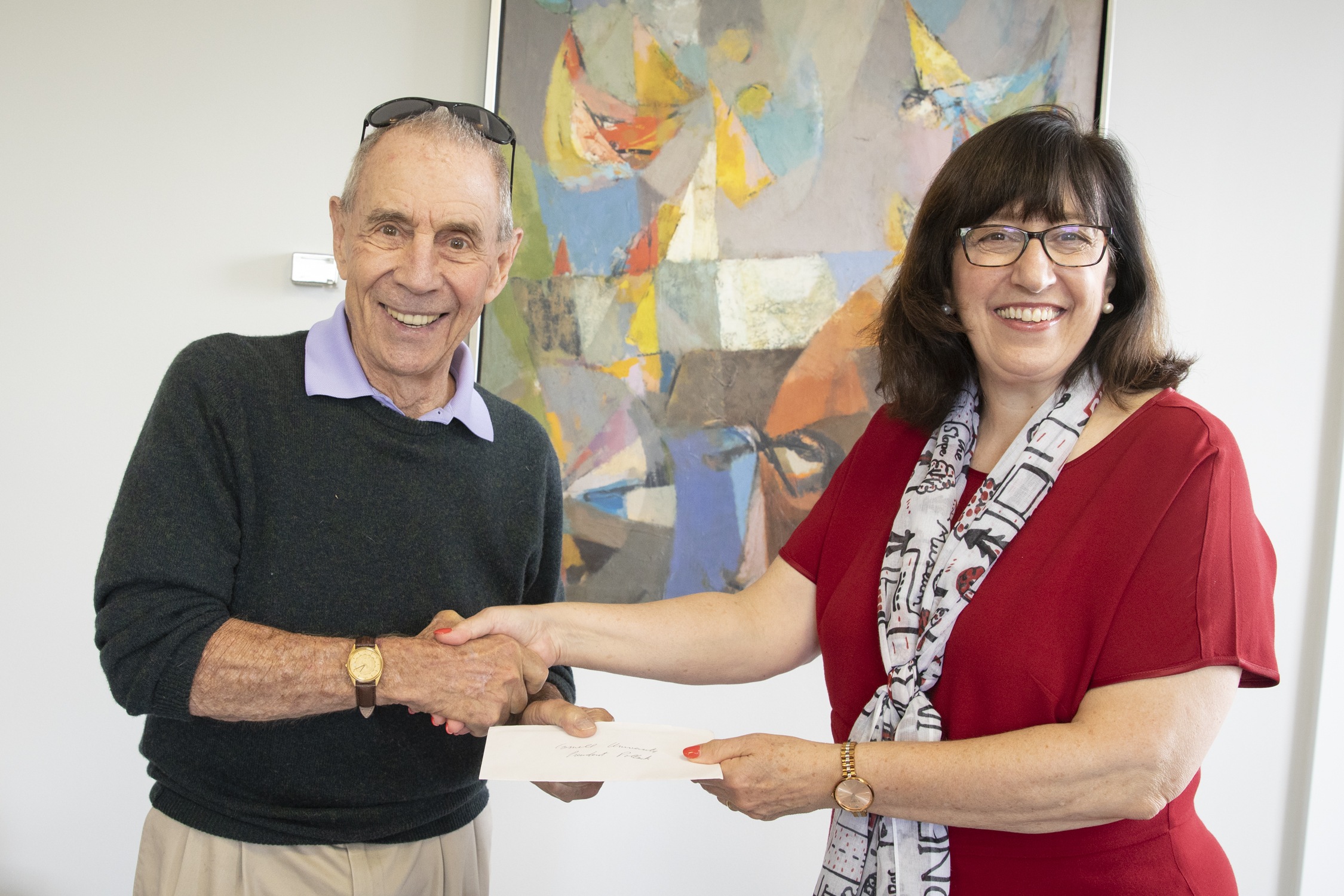 "The depth of Bill's generosity was matched by the depth of his trust in Cornell," says Pollack. "With his unrestricted gift, we established the L. William Kay II '51 Family Scholarship, in keeping with Cornell's commitment to support talented students from all backgrounds—a priority that I know Bill understood and valued."
An impact across campus
Kay seemed to forget no one in his support of Cornell. He was a stalwart friend not only of ILR and other colleges but also of units such as Cornell Botanic Gardens, Athletics, the Lab of Ornithology, Hillel, Student and Campus Life, and the University Library.
"He was a very good friend to the library," according to Gerald Beasley, Karl A. Kroch University Librarian. His founding of the Honor with Books program is a testament to that, and to his own Cornell giving philosophy. Kay is quoted in the materials for the program, "This program allows me to send two extremely important messages—that I care about my friends and family, and that I care about the sharing of ideas at Cornell."
I never met another alumnus that had such a feel for the place.
—Rip Haley '51
Kay's love of the outdoors, sports, and Cornell teams was legendary. Kay supported a variety of programs in athletics, including his special relationship with the golf team, and he was a fixture at football games.
"He continued to buy season tickets for the football games even though he would, on average, come only once a year," says Rip Haley '51. "Billy was captain of the golf team and obviously very good. He and I played a lot of golf together. About 15 to 20 years on, I liked to say I paid half of Bill Jr.'s tuition with the money I lost to Bill Sr."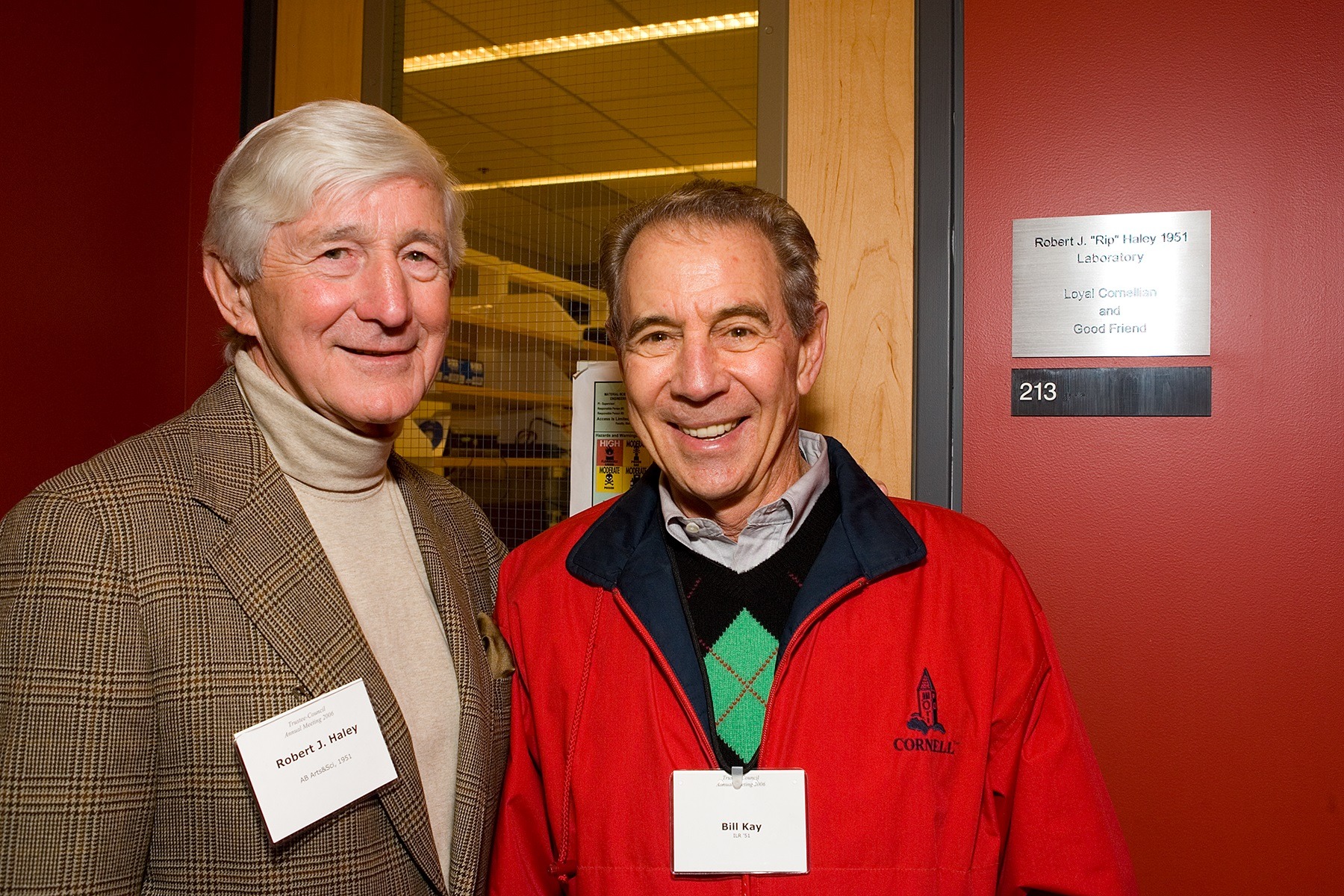 A dedicated member of the Class of 1951, Kay made several gifts to name spaces after beloved classmates, including the Samuel L. Hirschland '51 exhibition gallery in Kroch Library. Never an engineering student, Kay also named laboratories in the College of Engineering, after Haley and after Jim '51 and Patricia '53 Stocker. "I didn't know anything about it," says Haley. "I got a phone call from him one day, and he said he needs to know if I would prefer my name being Robert or Rip on the plaque because he's going to fund a lab in Engineering and he's in kind of a hurry. I said, 'You're gonna do what?!'"
After the naming of Kay Hall, Kay would return to campus every fall to meet the first-year students moving in. It was obvious to everyone how much Kay enjoyed this ritual. He would delight in students putting two and two together when meeting the man with the same name as their new home. He would also warmly welcome the students he had met during the student send-off. Even those not moving into Kay Hall would stop with their families to greet Bill.
The depth of Bill's generosity was matched by the depth of his trust in Cornell.
—Martha E. Pollack, president
Last year, when it was impossible for Bill to drive to Ithaca for move-in day, Mahaney says, "I went down to pick him up, bring him to campus to meet the students during move-in day, and then take him back home again. Those eight hours in the car with him? I consider it a gift."