The collective intelligence of honey bees, employment branding in hospitality, and cancer detection through glowing nanoparticles were just some of the subjects explored by parents and families during the Cornell Family Fellows spring weekend visit April 29 – 30.
Established in 2012, the Cornell Family Fellows program recognizes parents who make annual gifts to Cornell of $10,000 or more. The spring visit includes a program of faculty seminars, panels, tours, and receptions to give philanthropic parents the opportunity to directly experience the campus and what it has to offer.
"It's an intimate experience for people who are choosing Cornell as one of their philanthropic interests, says Penelope Chick, director of Parents Programs. The weekend is a chance, she says, for these parents to "have their own interaction with staff, faculty, and senior administrators, have their own relationships with some of the people that are impacting their own child's education here at Cornell. It's to show and to really engage parents as important stakeholders of the university and to demonstrate the impact of their giving."
This year, 141 guests, including 15 younger siblings, attended the weekend.
Families were encouraged to honor a Cornell person important to the Cornell student in the family by inviting him or her as special guest to the Friday evening opening reception. This year, 43 special guests—including members of the faculty, staff, coaches, deans—were invited to the opening reception held in the new Groos Family Atrium in Klarman Hall.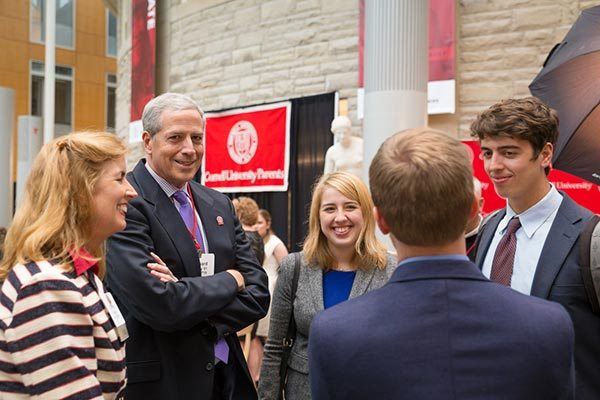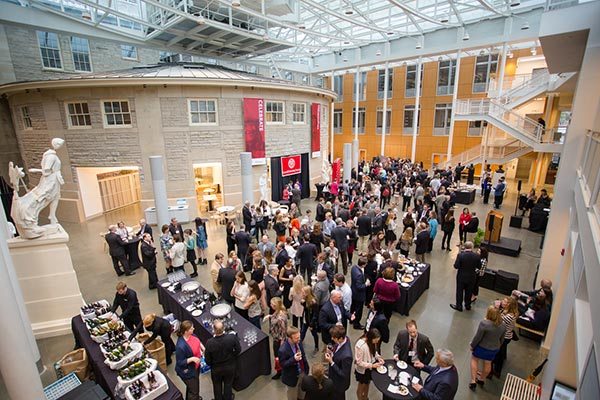 Abby Cherner '85, PA '17, '18, co-chair of the Cornell Family Fellows Program with her husband Andy Cherner, welcomed guests at the opening reception, introduced the evening's host, Scott MacDonald, senior associate dean for Arts and Humanities, College of Arts and Sciences, and helped set the tone for the weekend.
"I've been enjoying being a Cornell parent even more than I have enjoyed being a Cornellian, and seeing it through the eyes of our kids has been really exciting," says Cherner. "One of the things I like the best is getting to come up here and, through the Family Fellows, hearing speakers and professors talk about subjects that they are interested in."
Some of the weekend's programming included components of Cornell's public outreach such as the Cornell Prison Education Program and "Can Gardens Save the World? Preserving our Natural and Cultural Heritage," a seminar headed by the Elizabeth Newman Wilds Director of Cornell Plantations, Christopher Dunn. At brunch on Saturday, young alumni shared advice about job seeking and career development.
Honest talk about philanthropy was front and center during the weekend. Fred Van Sickle, Vice President of Alumni Affairs and Development, led a panel discussion on Saturday.
"Within just a few minutes of our panel discussion about family philanthropy," he said afterward, "it was clear so many parents are deeply committed to philanthropy, to their children's education, and to Cornell—and that these commitments are linked in powerful ways. It was stimulating to me, a professional fundraiser with decades of experience, to hear the passion and the smart thinking that our families bring to this topic."
Cornell parents have passion in abundance, says Cherner, and Cornell Family Fellows apply that passion to inviting others to join.
"Your kid's four years goes by really quickly," she advises Cornell parents. "Jump right in. Because before you know it, they're talking about where they are going to study abroad and then they're graduating. So take advantage of the time that they have here before they go off in the world. Be a part of it."