With a steady 6,000+ student participants each year, few other university programs touch as many students as Cornell Outdoor Education (COE). Founded in 1972, COE has recorded more than 200,000 enrollments over nearly five decades.
COE offers over 130 separate courses taught by 200 student instructors and 11 full-time staff members, and includes physical facilities like the Hoffman Challenge Course and the Lindseth Climbing Center. Courses like rock climbing, backpacking, hiking, and tree climbing are just a few of the unique offerings that students clamber to take advantage of, in addition to COE's popular pre-orientation program for new and transfer students.
"You could take ballroom dancing or bowling, or you could learn to go whitewater kayaking with us," says Mark Holton PhD, co-director of Cornell Outdoor Education, Outdoor Programs, and Risk Management. "We are probably the largest collegiate outdoor program in the country, maybe the world."
Leadership, built through outdoor education
COE teaches more than hard skills, says Karel Hilversum, PhD (c), the Dan Tillemans Director, Cornell Team & Leadership Center and co-director of Cornell Outdoor Education. It also teaches crucial leadership, teamwork, and interpersonal skills.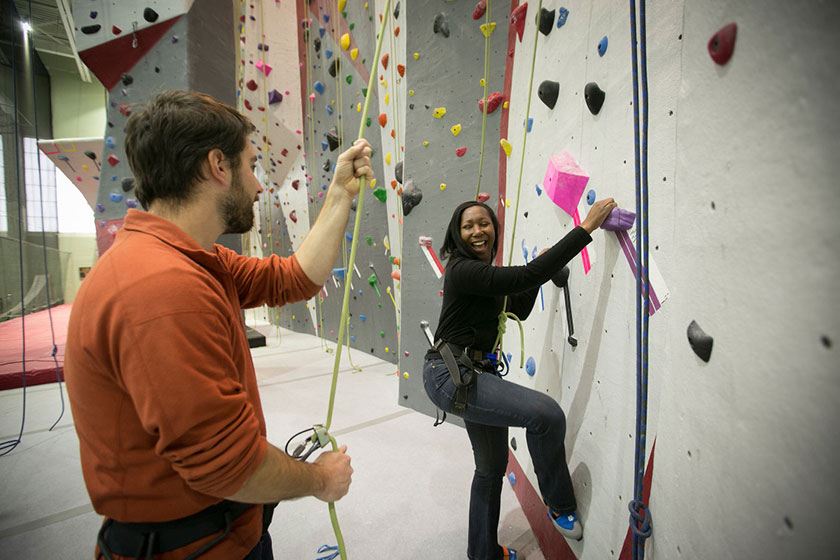 "If you ask any of our alumni, they'll say they grew more and learned more about themselves through their COE experience than through the rest of their university experience," Hilversum says. "COE becomes a cornerstone of their Cornell experience. We also become a space for students to decompress and take their minds off of the very stressful and intense academic experience."
"We are very interested in teaching students how to bring a group together so that everyone in that group has a voice and is represented and valued," adds Holton.
We also become a space for students to decompress and take their minds off of the very stressful and intense academic experience.
—Karel Hilversum, PhD (c), the Dan Tillemans Director, Cornell Team & Leadership Center and co-director of Cornell Outdoor Education
Students who participate in the courses often train to become instructors themselves, building a large network of friendships in the process. Programs like COE help create a positive Cornell experience for many students, providing skills they can take into their careers and leading to lasting alumni connections after graduation.
"What we do best," says Hilversum, "is take someone who has never been outdoors and pass them through a COE experience as a student, and then slowly convert them into the instructor. Most of our programs are student-led. They build the skills and the personal resilience and leadership to be able to teach."
Eliminating barriers
Not all Cornell students, however, have been able to take a COE course. Most courses come with a fee, which can be a barrier for many.
"Only about four percent of [COE's] budget comes from the university," Holton says. "The rest are gifts from our supporters, either through endowments or yearly gifts, or through fees from student programs." These fees range from around $100 to upwards of a few thousand dollars for expeditions around the world, like a trip to the redwoods in California or a mountaineering trek to Nepal.
"We are an expensive program," Holton adds. "We have to charge in order to make ends meet."
Jay and Julie Carter, both Cornell Class of 1971, wanted to help. As former board members for COE, they understood the challenge and wanted to do what they could to make courses more accessible for all Cornellians. They established the David Moriah Endowment, named for their friend and founder of COE David Moriah '72, with the goal of eliminating that access barrier.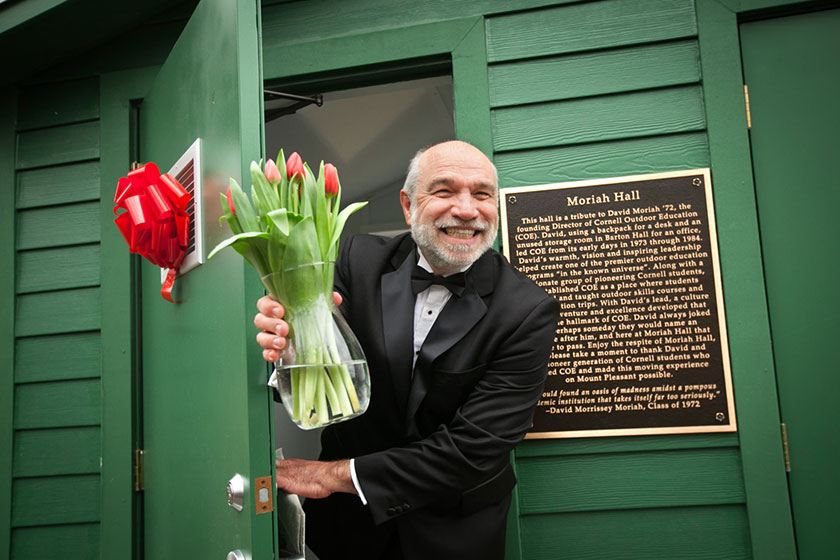 Through their $100,000 endowment gift, the Carters have already helped eight students receive partial support to cover their course fees, allowing them to participate and eliminating that price barrier.
"When you hear [student] stories as to what COE has done to literally change their lives," says Jay, "it blows you away."
"You want to make sure that anybody who wants to have that experience, can," Julie adds.
The Carters have remained actively involved with Cornell since graduation, through volunteer roles and numerous other activities. They give back to Cornell each year because "we just feel part of a family," Jay says.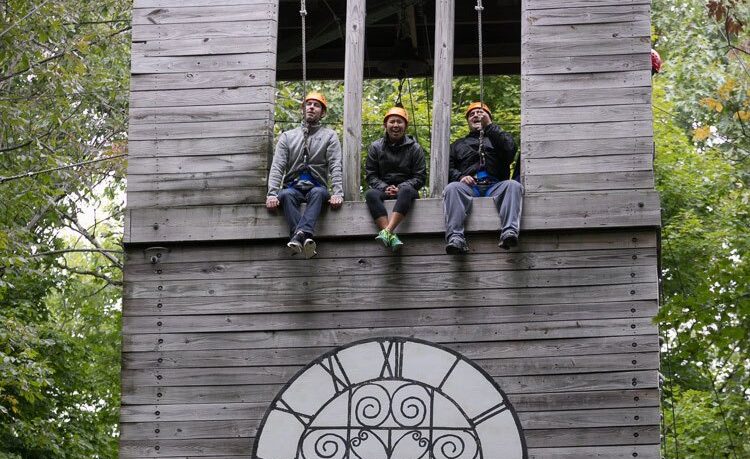 When starting the Moriah fund in COE, Jay says he was thrilled to be able to give the initial payment through a required minimum distribution from an IRA. This strategy allowed the Carters to make a large contribution to the endowment up front, which meant that students began benefitting quickly, without waiting several years for the endowment to begin paying out.
Their gift, once fully realized, will enable more students each year to enroll in COE courses. The Carters hope their gift will encourage other alumni to support outdoor ed, and help COE reach its goal to cover all fees for students who receive financial aid.
"That would have a price tag of $200,000 per year, approximately," Hilversum says, "with an associate endowment of $5 million."
"Ours is just the starter gift," says Jay. "It's a seed." Julie agrees, stating that she hopes other alumni will support this fund and others in COE.
Inclusivity, diversity, and access
Eliminating or reducing entrance fees for students is just the first step COE has taken in an effort to make COE programs more inclusive and welcoming for the Cornell community, says Hilversum. This effort has been underway for years, and is especially timely now, given the many conversations happening around the country with regards to diversity and inclusion.
COE community members drafted a diversity, equity, and inclusion statement back in February to help ensure they're taking the right steps to build a better COE for all students and to hold one another accountable for taking action. "We're walking that talk," Hilversum says.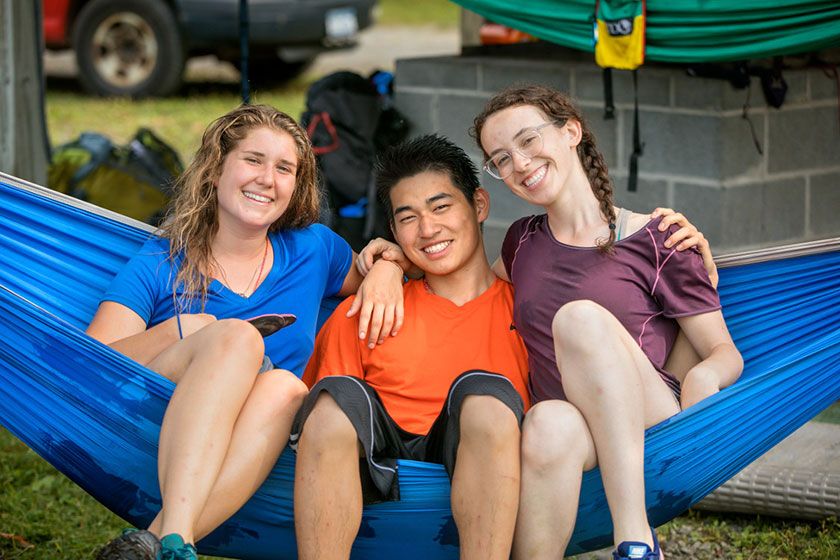 Some of the follow-up steps COE is taking include intentional hiring of diverse staff and student instructors, year-round programming with the Office of Academic Diversity Initiatives, and offerings like Adaptive Rock Climbing, "For the Win" monthly climbing events for women-identifying (cisgender, trans women, others) and non-binary individuals, and collaboration with the Kessler Presidential Scholars Program.
"We have to create the right culture," Hilversum says, which includes creating a space that is "inviting, supportive, and that allows for an organic interaction for anyone who wants to come to COE."
We value humor, and adventure. We're a group of people that like to adventure together and to laugh together.
—Mark Holton, co-director of Cornell Outdoor Education, Outdoor Programs and Risk Management
Holton and Hilversum hope COE courses will continue to inspire, motivate, and steward the next generation of Cornellians, building a strong community with a great sense of humor that all students can remain part of as they become alumni.
"We have an unofficial motto from our founder, Dave Moriah, who once said, 'I would found an oasis of madness in a pompous academic institution that takes itself far too seriously.' We have tried to keep that spirit of adventure and quirkiness in our program," Holton says.
Making COE a space where students can decompress, destress, and laugh with each other, both Holton and Hilversum agree, is necessary at a university with such rigorous academic programs as Cornell. This outlet should be available to all students, and they are excited that this goal is becoming more of a reality, especially thanks to alumni support.
"Our instructors value the community and, frankly, it's a fun place," says Holton. "We're a group of people that like to adventure together and to laugh together. That's enormously important."