Seventeen student and alumni groups are participating in a month-long crowdfunding campaign, raising funds to support a range of exciting projects.
Since 2013, crowdfunding has helped raised $2.2 million for student projects. From building a radio-controlled aircraft to safely deliver vaccine components, to supporting Cornell Law students and graduates entering public service, this year's projects represent several areas of the university, and help students excel beyond Cornell's campus.
"Cornell National Society of Black Engineers has provided a home for me and many other Black engineers at Cornell," says project ambassador Tiye Selby '23. "It provides a place for us to evolve academically as well as professionally. I am proud to represent CU NSBE and am eager to continue growing our organization."
"Cornell Baja Racing has provided team members with the opportunity to take engineering beyond the classroom as we create new car every year from the ground up," notes project ambassador Jade Meyer '23. "By offering a space to explore our passions in tech as well as encouraging women in STEM, Baja has brought us unforgettable memories and helped each of us forge a career path that we are truly passionate about."
This is the first semester that many of these groups have been able to meet in person on campus, and their enthusiasm is apparent. Dozens of student ambassadors from each group have been sending emails and social media updates to alumni and their own friends and families, resulting in more than 550 gifts and over $90,000 raised as of November 15, 2021.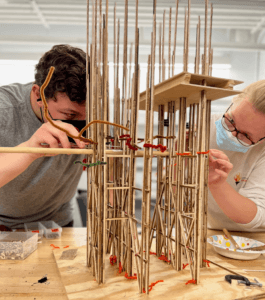 "We hit our $5,000 goal on the very first day, and our team is blown away by your support!" the Cornell Seismic Design: Advancing Earthquake Resilience student team said in an update to donors. "We are so grateful to everyone who donated, as your gift will make a valuable impact on our project."
Every project had secured at least one gift in the first 24 hours of the campaign, and several met their initial goals within the first week. The projects will continue to fundraise until December 7.
"It's our goal to help students find the best ways to engage our supportive alumni network, and share their stories of how they are making an impact not just in the Cornell community, but an impact with a truly global reach," says Jon Gregory, associate director of donor participation and college and unit partnerships for Cornell Alumni Affairs and Development. "We invite alumni to be part of the cause-based missions this generation of students are creating."
See the projects participating: