Dyson alumni have stepped up in the last year with scholarships and emergency funding to provide access to Dyson and the best possible student experience once here.
Current-use funds have helped many through the 2019-2020 academic year, ensuring that "inability to pay isn't a barrier to participation," says Tim Oonk '86, executive director of Alumni Affairs and Development for Dyson.
Scholarship support brings excellent students to Dyson
Current-use scholarship funding exists across all of Cornell, and is a crucial part of leveling the playing field and allowing students from all backgrounds to study at the university.
Catherine Khan '99 and Imran Khan started the current-use Catherine Strauss Khan '99 and Imran Khan Scholarship last year, which supported one Dyson student for the 2019-2020 academic year.
"Attending Cornell was life-changing for me," Catherine Khan says. "I feel indebted to Cornell for the amazing educational experience I received and I think every eligible student should have that same opportunity."
Receiving a scholarship at Cornell made her experience possible, and she wants to pass that along to this next generation of Cornellians.
"My hope is that this scholarship will allow students to make their college choice based on the best fit for them and not just what they can afford," she says. "And when they graduate, my wish is for them to start their next chapter with a financial situation that affords them the ability to pursue a career following their dreams. As we alumni reflect on our own fortunes, I hope that everyone can see how much Cornell has contributed to their life journey and re-invest in the same way."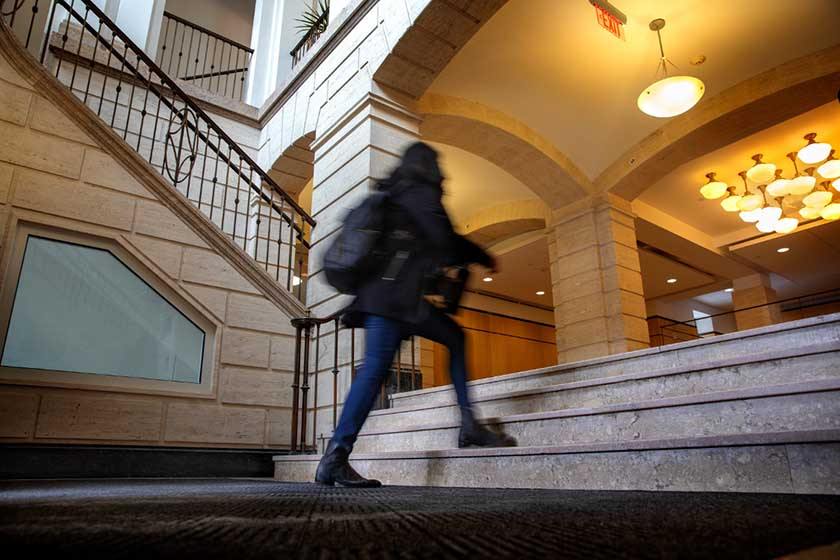 Emergency funding fills the gaps
The objective of the McPeek Family Student Assistance Fund in Dyson, established in 2019, is to support students "at the level of well being," says Andrea Poag, director of Student Services in Dyson's Office of Student Services.
This current-use fund, established by Julie Doig McPeek '83 and Jeff McPeek '82, can cover expenses that scholarships do not. This includes things like business clothes to wear to interviews and internships, meals and groceries for food-insecure students, and emergency expenses that come up throughout the year.
"We believe that education is a great equalizer, so we want to be sure that we set each student up for success while at Cornell," Julie McPeek says. "The fund is in place to eliminate financial and sometimes unseen social barriers for students in need at Cornell, which will in turn reduce their stress and improve their Cornell experience. This is done without fanfare or any stigma attached."
"Anything we can do to help the students not have to worry about some of these other factors, I think that helps them," Poag says. She notes that this spring, the fund was also used to reimburse a student for emergency flight costs, allowing him to return home safely from Italy.
"These students belong at Cornell as much as we did," McPeek adds. "We also believe that this fund is a good way to inspire the next generation of Cornellians, especially those that have been provided a helping hand, to pay it forward when they are in a position to do so."