Ever since she was a teenager, Efe Airewele '20 dreamed of studying public health. As she researched universities, she wanted to find a program that could help her become an advocate for low-income communities of color. She discovered something unique at Cornell: the opportunity to study global and public health sciences as an undergraduate student.
A competitive financial aid package helped convince Airewele to bring her talents and passions to Cornell University. As a fellow for The Cornell Tradition, an alumni-endowed program that recognizes and rewards outstanding undergraduates, she was able to apply her knowledge and skills in Zambia, Ghana, and Tanzania as a recipient of the program's Community-Engaged Student Travel Grant Award.
Tell us about yourself before Cornell.
I was raised in a low-income community in Lynn, Massachusetts, by my Nigerian immigrant single mother. I was first exposed to health disparities in this environment through stories of family members back in Nigeria but also through my peers in school.
In one instance, a friend in middle school was excited about getting dismissed early from classes for a dentist's appointment. Before I could ask her why that was exciting, she shared with me that it would be her first time seeing a dentist. Many early experiences like this one fueled my curiosity about public health and studying health disparities across communities.
I had the opportunity to leave my community after receiving a scholarship to a boarding school in New Hampshire. During my senior year there, I was able to travel to Ghana to study abroad. This experience bolstered my interest in global opportunities and definitely contributed to my interest in global- and public health-related college majors.
When I began researching potential colleges, I found that most encouraged students to study biology or another similar major during undergrad before pursuing a master's degree in public health or studying public health at the graduate level. There were few options at the time that offered a robust public health-focused major for undergraduates, but I came across the Global and Public Health Sciences major at Cornell through my guidance counselor and immediately knew it could be a right fit.
When you received your financial aid package from Cornell, what did it mean to you and your family back then?
Financing your education is nerve-wracking for most people, and I was no exception. This was even more overwhelming when I realized I would also need to figure out a way to fund any international experiences I wanted to be a part of. Although my financial aid package from Cornell was generous, the extra support I received from The Cornell Tradition fellowship was a major deciding factor in choosing Cornell. I appreciated the additional support I would receive through the expected summer savings replacement and service support account.
Tell us a little bit about your time at Cornell.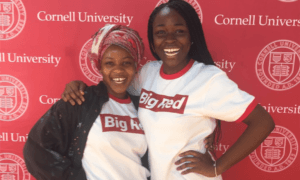 My involvement in the Cornell Global Health Program definitely stands out. I enjoyed serving as a teaching assistant for three courses and on the Global Health Student Advisory Board (GHSAB).
Through GHSAB, I helped plan an on-campus event with Dr. Mona Hanna-Attisha, the pediatrician that uncovered the Flint Water Crisis. When this event was canceled my senior year due to COVID-19, I was really disappointed, but I was ecstatic to be able to come back as an alum for a rescheduled event and interview with Dr. Hanna-Attisha. The turnout for the event was amazing, and I was incredibly proud of GHSAB for making the event happen a whole two years later!
My involvement in Cru Cornell, a Christian campus ministry, also stands out. I received so much support and guidance from mentors and peers in this organization. Cornell can be an extremely overwhelming place. From school work to extracurriculars to internships, it can feel like there is always something to stress about. Finding a community of people who shared my faith was such an anchoring experience. I don't think I would have made it through Cornell without the support of the leaders and students I met here. I also grew in my faith as I led a Bible study for the first time through Cru. My time serving here definitely stretched me beyond what's possible in the classroom.
Are there any specific experiences you had during your undergraduate studies that may not have been possible without financial aid?
My international experiences would not have been possible without financial support from Cornell.
I was able to travel to Zambia, Ghana, and Tanzania during my time at Cornell and did not have to finance a substantial part of any of those experiences. Through The Cornell Tradition fellowship, Community-Engaged Student Travel Grant Award, and many other financial aid opportunities, I was able to afford to participate in these transformative experiences:
Zambia Experience
Through a partnership with Cornell and the Southern African Institute for Policy and Research (SAIPAR), I conducted semi-structured interviews with Zambian stakeholders to evaluate the barriers and opportunities for people with intellectual disabilities to access employment. Additionally, I investigated how high unemployment rates for people with neurodevelopmental disorders affected health outcomes. Along with a Cornell International Labor Relations student, I presented findings to the SAIPAR board of directors.
Ghana Experience
I was part of the first cohort of Cornell volunteers to partner with the OKB Hope Foundation to offer health education on hypertension and diabetes to low-income Ghanaian community members. Along with the OKB founder, I led a health education night at the local church on hypertension and its effects on overall health. At three local health fairs, I supported medical professionals in measuring community members' blood pressures, blood glucose levels, and body mass indexes. Additionally, I volunteered at Komfo Anokye Teaching Hospital, where I documented patient blood pressures in the obstetric high dependency unit. I was awarded the Frank H.T. Rhodes Cornell Tradition Endowment to fund this service experience.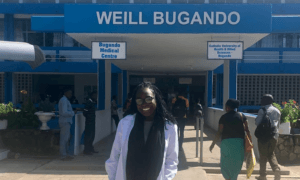 Tanzania Experience
In Tanzania, I conducted research on the neglected tropical disease, schistosomiasis. Schistosomiasis primarily impacts communities with limited access to safe water and adequate sanitation. During my fieldwork, I assisted Dr. Jennifer Downs in a new project investigating the sex differences in how schistosomiasis affects the gastrointestinal tract. I presented a poster with preliminary findings at the 2019 Global Health Experiential Learning Symposium.
How did these experiences inspire or change you?
My international experiences enhanced my worldview. I was able to engage with new cultures and think critically about how I wanted to practice public health as a professional.
I wasn't on the pre-medical studies track when I first came to Cornell. I thought I wanted to study health disparities on the population level and perhaps attend graduate school to study epidemiology to facilitate that. It wasn't until my international experiences that I became captivated by the individuals who are at the center of population-level health disparities.
I learned that I enjoyed working with patients on the individual level in the clinic and through research. I was also able to connect with physicians who opened me up to the world of academic medicine, where you are able to treat patients, conduct research, and work with students and other trainees. This exposure solidified my interest in pursuing a career in academic medicine, and I am excited to begin my medical school journey at Northwestern Feinberg School of Medicine on a full-tuition merit scholarship.
Reflecting back, my financial support from Cornell facilitated the international experiences where I became passionate about global health and medicine. That changed the trajectory of my career and allowed me to be a competitive applicant for medical school.
Did your financial aid experience mean something new to you immediately after graduating from Cornell?
My time at Cornell ended abruptly in March of 2020 due to the pandemic. There was so much fear about the health of our nation but also so much uncertainty about our financial stability. So many recent graduates struggled to secure jobs, and, for me, this added an additional level of awareness of what financial freedom means. During this time, I became immensely grateful for the financial aid I was awarded as a student because not having the weight of crushing debt to worry about after graduating was such a relief.
As a student, I was involved in the Cornell Annual Fund Phoning Program. After graduating, I still wanted to be involved in some way to ensure that current students would have the financial support that they needed and that I had been blessed to receive. Although I was in the midst of studying for the MCAT and applying to medical school, I still wanted to volunteer with Cornell to support students. I joined the Council on Young Alumni Philanthropy to encourage other alumni to support Cornell financially.
The council is composed of young alumni who develop relationships with other alumni. As a committee member, I maintained relationships with 14 young alumni to raise participation levels and encourage increased annual fund gifts among the young alumni population. I joined the council because it is important to me to ensure that Cornell students of all backgrounds have adequate financial support. As a result, I recently served as the co-chair of the Council on Young Alumni Philanthropy.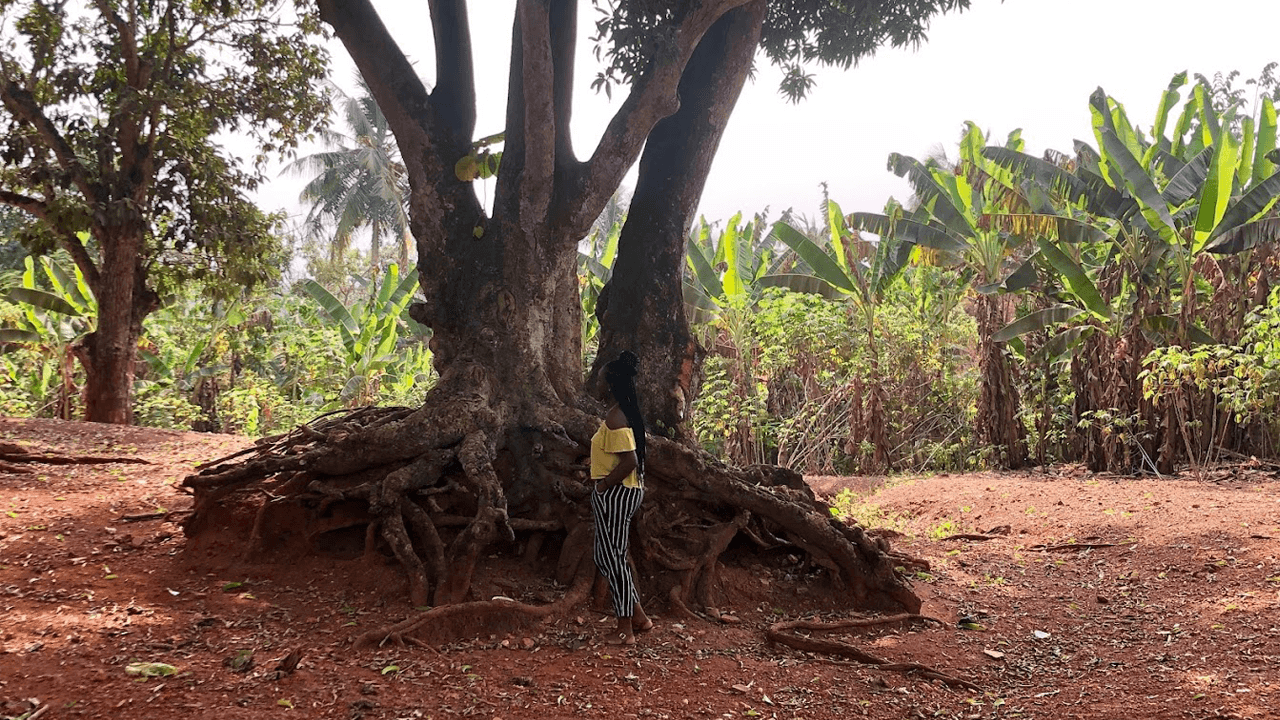 What does it mean to be a Cornellian?
For me, being a Cornellian means using your passions to serve others and being a light in what feels like an increasingly dark world. Whether that's through medicine, technology, or hospitality management, I believe we all have a greater calling to give back through service.
During the past few years, we've felt the immense pressure of an infectious disease pandemic, a nationwide racial reckoning, loss of life due to gun violence, and so much more. In response to all of this, I am confident that Cornellians everywhere are equipped to take all the lessons they have learned to do the greatest good.