Growing up on a dairy farm in the small town of Glen, New York, Craig Voorhees '49 worked close to the ground, all year, tending to the animals.
"In the 1920s and 1930s, everyone works 365 days a year," he wrote in a letter. "You work for the cows—plant crops, harvest crops, maintain the barn—and then you milk them by hand twice a day, every day, to get your income."
Decades later—after enrolling at Cornell University, serving as a bombardier in the United States Army Air Forces during World War II, and returning to Ithaca to complete his degree at the ILR School when the war ended—Voorhees launched into a long career with the federal government.
He traveled all over the country as a project manager for the United States Atomic Energy Commission. In 1964, he landed in Washington, DC, to work for the United States Senate Committee on Aeronautical and Space Sciences and the Committee on Commerce, Science, and Transportation, followed by the National Academy of Public Administration. He was managing NASA-related projects for Boeing when he retired in 1990.
A lifelong bachelor, Voorhees settled in Rockville, Maryland. But his thoughts kept coming back to Cornell, and, in 2009, he established a scholarship for undergraduates in any field of study.
"I can assure you hard work never hurt anybody, and it does pay off," he wrote in the same letter quoted above, dated April 22, 2011, addressed to Kristy Yang '13, the first recipient of his scholarship.
Yang had previously written Voorhees to thank him. "The scholarship helps my family and me tremendously," she wrote, "and it helps to keep me at Cornell without feeling too guilty that I am enjoying such an expensive education."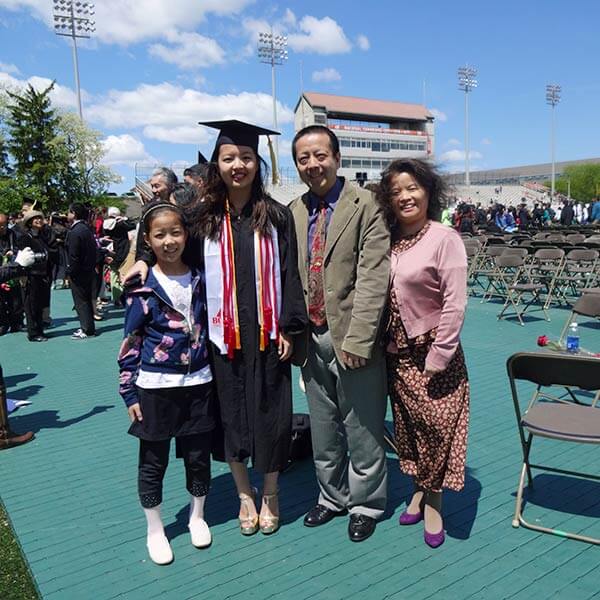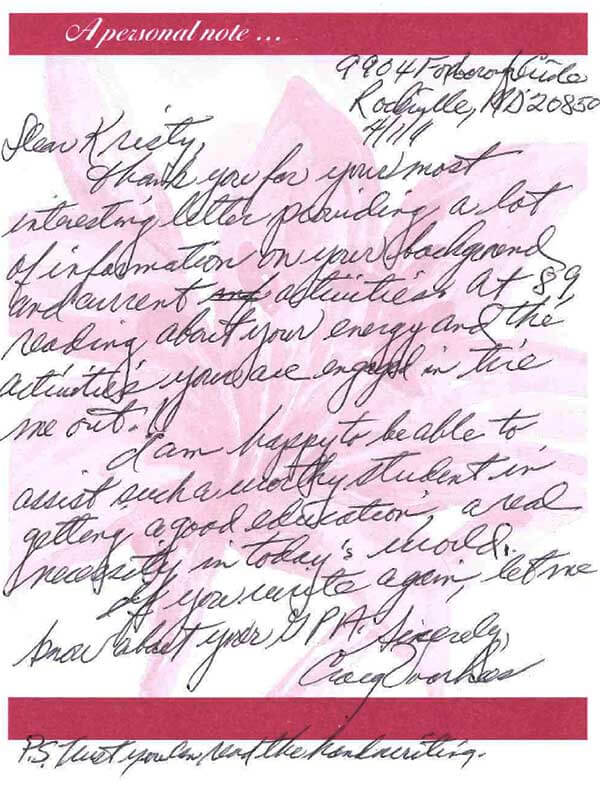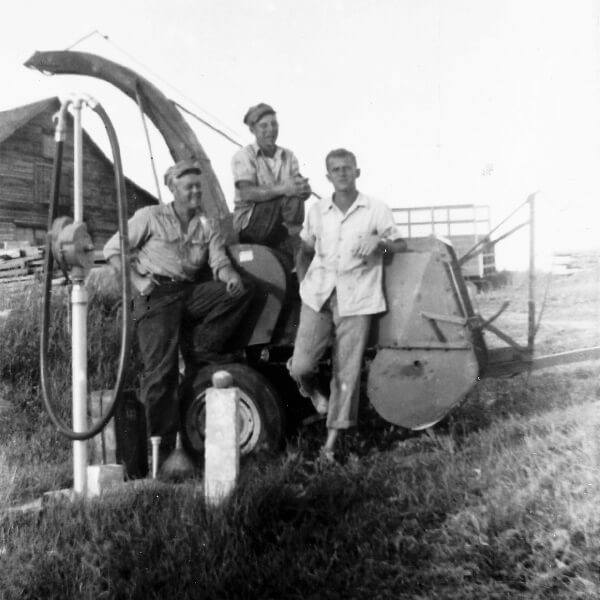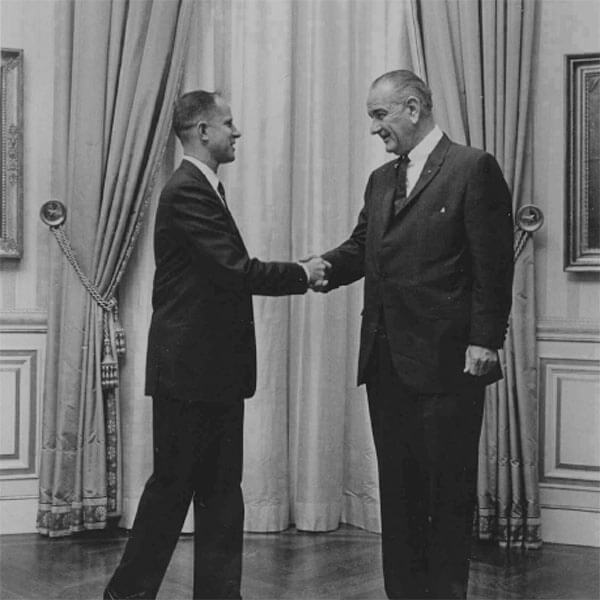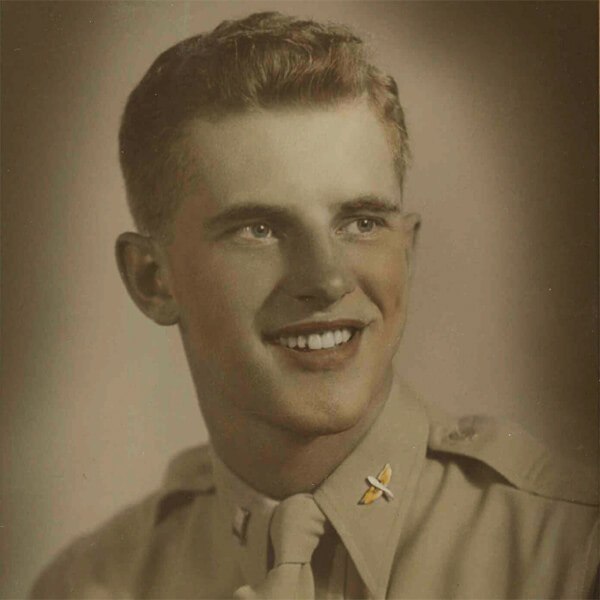 In her letter, Yang described her family's move from China to Japan and then finally to the United States. She wrote about her modest middle-class roots, her happy upbringing in the suburbs of St. Louis, Missouri, and her busy life at the Charles H. Dyson School of Applied Economics and Management (AEM), where she was a member of the student council helping to spread the word about Cornell and AEM with prospective students.
Yang hadn't expected a reply: "I remember thinking 'wow, a donor is taking the time to write to an undergraduate student.'"
And she was moved by her benefactor's advice and encouragement. "Mr. Voorhees believed that I would get where I wanted," she said.
Yang graduated summa cum laude, started working for Goldman Sachs in New York City, and then moved to a private equity firm in Boston, Massachusetts. This year, she applied and was accepted to the Harvard Business School, and she is excited to return to full-time study in the fall.
At 92, Voorhees passed away in January 2015, but his words live on with Yang who kept his two letters back at her family home in St. Louis, Missouri, along with other beloved mementos from her time at Cornell.
Yang said she will always remember Voorhees's distinct, cursive handwriting. ("With the help of some friends, I deciphered it," she said with fond laughter.) And Voorhees's kindness and spirit resound with her to this day.
"Congratulations on your GPA," Voorhees wrote in his last letter, after Yang informed him of her impressive 4.2.
"Keep up the good work and enjoy yourself a little," he added. "I think you have earned it."
A final gift, a lasting tribute
Apart from the scholarship he established during his lifetime, Craig Voorhees continues to make a difference through his estate, valued at more than $5 million, which he willed to Cornell.
"Cornell meant a lot to my uncle," said John Henley, an operations manager for Lee Dyeing Co., from Gloversville, New York. "He believed that he owed most of his success and accomplishments to the university and that the school made him the man that he became."
Enabling Cornell's leaders to place his final gift wherever it was most needed, Voorhees did not stipulate a designation or restriction for his bequest.
"I believe in the Cornell administration, and I believe in the Cornell president," Voorhees told Carolyn De Wilde Casswell '90, a Cornell gift officer who had worked with him in setting up his scholarship. "I know that they will know where to best put my estate."
In tribute, Cornell is leveraging Voorhees's bequest as matching funds for the newly launched endowed scholarship challenge, an initiative aimed at inspiring up to 100 new scholarships.
"He valued the way his Cornell education shaped his life," Casswell said. "And he would have been delighted to see his bequest supporting what was always near and dear to his heart."
Learn more about bequests and other planned gifts to Cornell.
Editor's note: The endowed scholarship challenge was successfully completed in April 2018, garnering nearly $22 million from Cornell's champions. Read more.