A recent gift from Cornell's Chi Chapter of Delta Gamma will create an annual speaker series for the Cornell Women's Resource Center, and provide funding for the series in perpetuity.
The Women's Resource Center, a welcoming and inclusive space on campus, has a mission to support both the personal and educational pursuits of women-identified students.
"We fully believe that it is best to champion women from an inclusive and intersectional place that acknowledges and supports all of their identities," says Shura Gat, assistant director of the center. "Through leadership development opportunities, dynamic programs, and engaging events, we seek to build community and promote gender equity and inclusion at Cornell and beyond."
The center accomplishes this mission through weekly student-led discussions, virtual yoga classes, meditation sessions, financial empowerment workshops, and other activities. Gat and Greta Kenney Takaoka, associate dean of students and director of the Women's Resource Center, are both available for confidential conversations with community members, and say they "aim to foster a vibrant and supportive campus community for woman-identified and gender marginalized students so that they can bring their full and authentic selves to every part of their lives."
The center's new annual speaker series will bring women leaders to campus, to meet with and inspire students and community members. The series was made possible by an endowment gift made by Delta Gamma this fall.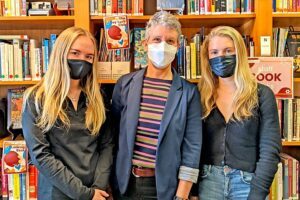 "Delta Gamma chose the Women's Resource Center because their mission aligned with the legacy we wanted to make as a sorority at Cornell," says Brittany Coffman '22, MBA '23, former VP of Foundation for Cornell's Chi Chapter of Delta Gamma, who notes the organization participates in yearly fundraisers and giving opportunities. "From the beginning, we emphasized well-being and mental health for college women as an essential topic that offers a breadth of benefits for our audiences. Our goal to reach a range of people in the Ithaca community is fervently shared by the WRC."
"It was extremely important to me to be part of making this gift to the WRC," says Olivia Hargraves '22, former chapter president, "because I strongly believe there is power within a group of women to make changes when they are united. It was also extremely important to me to make a gift to the Cornell and Ithaca communities."
The gift means the speaker series can happen every year, with funds always earmarked for this purpose.
"With this Annual Speaker Series, we are excited to add an exclamation point to the long history of the Women's Resource Center," say Takaoka and Gat. "The WRC originated out of student activism in the 1970s. This new event will address the interests and needs of women and gender-marginalized students on campus now and into the future."
The students involved in directing this gift say the opportunity to support the WRC also taught them about the importance of philanthropy and collective impact.
"Power comes from the group," says Hargraves. "While I have learned about myself as a student leader, this was a decision I was able to be part of with 150 women. The power of our accomplishments through working together as a team has been something I'll certainly take with me in the years to come."
"Not only will I always be connected to DG here at Cornell," Coffman adds, "but this speaker series is one that could call me back to campus down the road. I've learned that beyond the gift itself, the ability to touch and experience the result of my giving in such a direct way is an exciting feeling I'd like to replicate throughout my life."
The inaugural speaker series event will be held in October 2022.
Interested in supporting the Women's Resource Center or this speaker series? Make a gift here.