In 24 hours, 14,411 donors raised a record-breaking $10,040,921 to support Cornell students, programs, and research on the university's seventh Giving Day, March 11. Gifts poured in steadily throughout the day, with support from all 50 U.S. states, plus Puerto Rico and Washington D.C., as well as nearly 80 countries around the world.
"We're so grateful for the support of the Cornell community on Giving Day," says Fred Van Sickle, vice president for Alumni Affairs and Development (AAD). "Last year, Cornellians rallied behind Giving Day in the very early days of the COVID-19 pandemic, making it clear that even in a time of radical uncertainty, our alumni, parents, students, faculty, staff, and friends remain committed to the university and its mission. We've spent the past year connecting with this community through virtual events, seeing old friends on Zoom, and making many new ones. This year's Giving Day once again demonstrates the difference Cornellians can make as they band together in support of today's students."
Challenges and matches raise the bar
Giving Day was an amazing opportunity to show alumni and students that their support can really make a difference.
—Angel Gutierrez '19
Throughout the 24-hour campaign, donors took advantage of gift challenges and matches to increase the impact of their gifts and win extra funds for their favorite areas of the university. All 20 areas competing in the Raise the Bar challenge topped their 2020 donor counts and received challenge bonus funds of $4,125 each. Over 200 alumni, students, and friends also signed up as fundraising champions, helping to bring in thousands of dollars to support their specific colleges, teams, and more.
Many who participated in these challenges expressed enjoyment in watching the day's totals climb, and seeing which areas would win additional funds. "I can see the ways in which the gifts raised show the love people have for their clubs, colleges, teams, departments, and their experiences and treasured memories. I love the competitions between colleges," says Ahoefa Andréa Abita '20.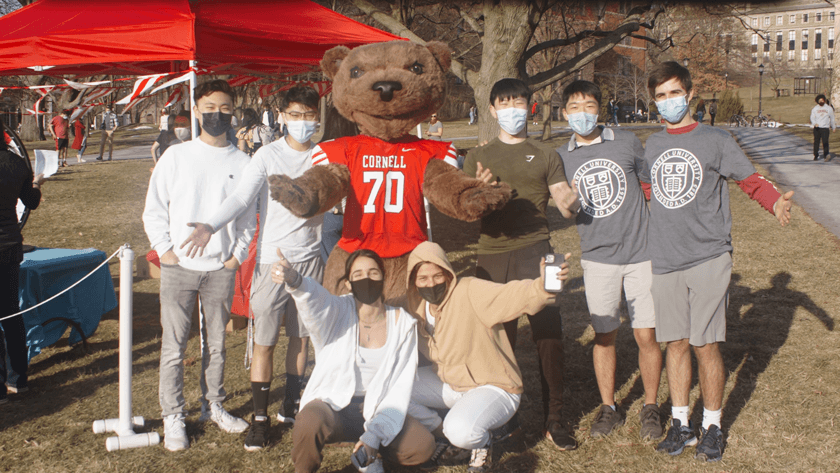 Several international challenges brought in nearly $20,000 to support Global Cornell. Members of the Cornell Asia Alumni Leadership Advisors (CAALA) and the Cornell China Alumni Advisory Board (C-CAAB) made challenge gifts to inspire their classmates to participate and encourage broad international representation among Giving Day 2021 donors.
Additionally, gifts from young alumni and students on Giving Day helped unlock challenge funds and raise a total of $50,000 for undergraduate scholarships. The top five class years that made the highest number of gifts were all recent graduates and students, with the graduating Class of 2021 making the most gifts of any Cornell class.
Recent grads and students also participated in a Giving Day trivia night created by Matt Linden '17 and led by host Armon Sadler '17, competing for a chance to win an extra $1,500 for any Cornell annual fund.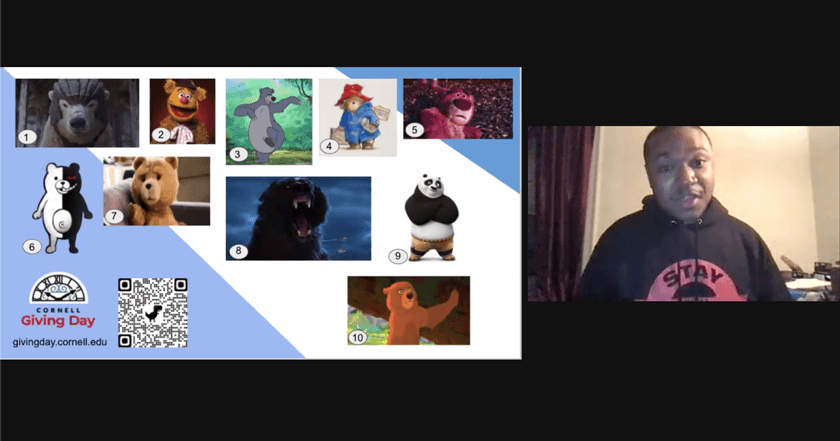 Ninety separate teams competed, with some participants Zooming in from as far away as Uganda. The winning team, a group of four first-year students, chose to award the funds to the Student and Campus Life Annual Fund. Regardless of the scores, many of the over 300 participants expressed how fun it was to have a chance to come together digitally on Giving Day with their classmates and friends for the competition.
"Giving Day was an amazing opportunity to show alumni and students that their support can really make a difference," says Angel Gutierrez '19.
"Giving Day was such an exciting moment for me as a Cornellian," adds Emily Hana Abbruzzese '23. "I loved checking the total dollars raised between my classes. I am so grateful for the effort of alumni, parents, students, and friends of Cornell because I have already seen the direct effects of their Giving Day donations."