"What do we picture when we think of an engineer?" asks Karina Popovich '23. Karina is working with her peers to redefine preexisting notions about who belongs in STEM fields and transform the faces of tech and science to include more women.
According to data from the U.S. Census Bureau, the number of women in the STEM workforce has increased significantly over the past 50 years—up from 8 percent in 1970 to 27 percent in 2019. Yet, women remain underrepresented in the computer science and engineering workforce, two of the most lucrative STEM fields. National Science Foundation data from 2019 indicates that only 19 percent of computer science majors and 15 percent of engineering majors are women.
Bucking the national trend, Cornell Engineering's Class of 2021 is the first in the history of the college to enroll more women than men. Karina, a sophomore in the Dyson School, is working with female students across Cornell and at universities around the country to empower more young women to imagine themselves as engineers and pursue STEM degrees and careers.
Watch the INERTIA promo video.
Karina and her team have founded a new venture, called INERTIA, with a mission to make STEM more accessible and inclusive for girls and other historically excluded youth. INERTIA will launch this summer, with a weekend pop-up event in the Brooklyn Bridge Park.
At the event, passersby will watch, interact, and take pictures, while a wall of brightly colored 3D printers produces statues of female scientists. The statues will feature real women in STEM, drawn from the IF/THEN Collection. Karina is one of 125 female scientists and engineers who were 3D-scanned for the collection.
The event will also feature lightning-round talks by "some of the most innovative and inspiring women in STEM and entrepreneurship," Karina says. "Visitors will hear from incredible speakers, increase their awareness of the diversity gap in STEM, and spark a broader dialogue about tech and science," she says.
Instagrammable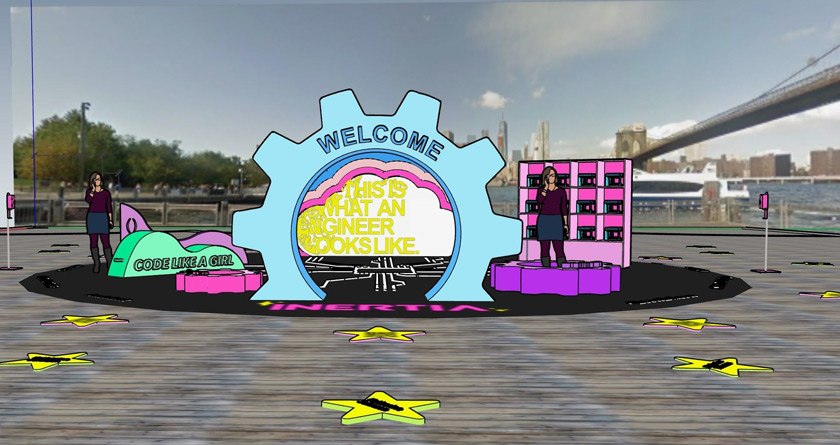 Karina explains that the name INERTIA is based on the meaning of the word, which is the tendency for an object at rest to remain at rest and for an object in motion to remain in motion. She hopes that the pop-up experience will serve as a force for change, to propel participants from a resting state into motion.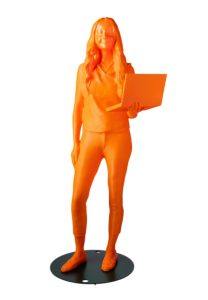 "To change from a resting state, you need some kind of force, which is the physical pop-up experience," she says. "We hope the movement will continue for the girls after the event," she adds.
Karina will use strategies employed by innovators like the Museum of Ice Cream and Glossier to create a fun, "Instagrammable" event to attract and engage with her audience. The pop-up event will feature STEM-themed murals, neon signs, and artistic installations intentionally designed so that visitors can interact with them and take pictures to post on Instagram.
"We want to draw attention to the notions that STEM is for geniuses, for the guys, is bleak, and has no space for creativity. We want to show that STEM isn't any of those things," Karina says. "By utilizing bright and funky colors, INERTIA will help rewrite the narrative and enable participants to see that STEM is fun, exciting, and most importantly, welcoming!"
Over the past several months, Karina has reached out to recruit five Cornell students to the INERTIA team, including Olivia Goosay '23, Ann Xu '23, Anabella Maria Galang '23, Amorita George '23, and Ava Ciaccia '22. She also has an extended team of more than 40 high school and college students from across the country.
Karina Popovich '23 and the INERTIA leadership team

"What unites us is this mission of changing the look and feel of STEM." —Karina Popovich '23
Karina and her team are planning a full-scale launch in the summer of 2022, which will include Augmented Reality (AR) activities and a web-based app that participants can use as they explore the exhibit to learn about powerful women in STEM. "We're hoping to use AR projections of women in STEM as an interactive way for these women to tell their own stories," she says.
Karina is a first-generation American who grew up in Brooklyn. She chose to hold INERTIA's first event at her neighborhood park. "Brooklyn Bridge Park is my all-time favorite park because of its stunning views of the skyline and bridges. Every time I'm there, I'm re-energized and reminded of the American dream and the thrilling opportunities that surround me," she says.
Karina's grandfather, Vasyl Rudeychuk, helping her with her math homework

"I always viewed STEM as a creative outlet. I could solve problems and build anything I set my mind to." —Karina Popovich '23
Unstoppable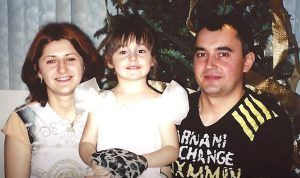 Karina says that she began tinkering as a toddler, when she first discovered her father's tools. "My dad was an electrician, so some of my first toys were a set of pliers and a screwdriver," she says.
She took a robotics class in middle school and was fortunate to attend Brooklyn Technical High School, where she majored in mechanical engineering. As an intern at NYU's Makerspace, she discovered prototyping machinery and learned how to use a range of 3D-printers, laser cutters, vinyl cutters, a CNC, and more.
In high school, she noticed that most of her peers were male and that many female students didn't share her expansive view of STEM. "I remember sitting in a large warehouse-like classroom, being one of eight girls among 60 guys and having male teachers that I couldn't relate to on a personal level because we didn't have too many shared interests," Karina says.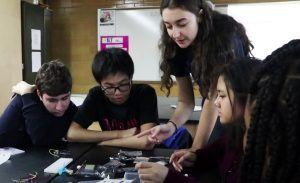 "The reason girls and historically excluded individuals fall out of the STEM pipeline is because of the tight and constraining preconception and culture of STEM—what it looks like, who can be in it, etc.," Karina says. "I realized how powerful my perspective on STEM was, and I realized that it's these different perspectives, fueled by people coming from different backgrounds, that drive innovation," she adds.
Karina's Instagram claims that 3D printing is her superpower. At the start of the pandemic, Karina founded Makers for COVID-19, a coalition of 3D printer owners from around the world. These volunteers collaborated to 3D print and donate 82,000 units of PPE to medical workers at more than 250 hospitals in the United States. Karina received the Clinton Global Initiative COVID-19 Student Action Fund Award for her work.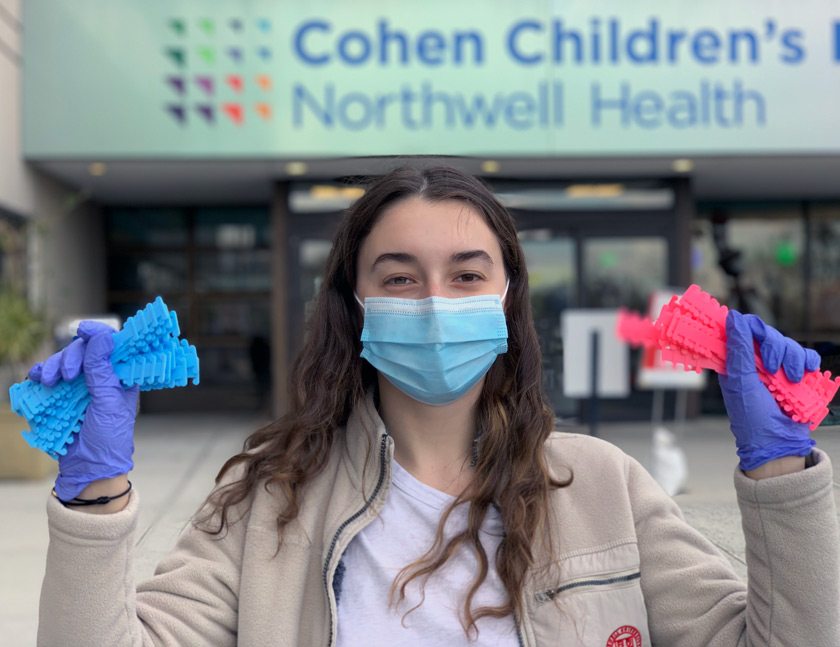 Uncharted
Karina's dream is to scale up and take the INERTIA pop-up on the road to other parks throughout NYC and to other cities across the country. Ultimately, the team would like to establish a permanent location and an experience which spans STEM fields.
Since the team is staffed by students, it has been challenging for them to raise funds and coordinate a project of this scale while balancing the demands of their academic coursework. They recently decided to delay INERTIA's full-scale launch until summer 2022. "In the moment this felt like a major failure," Karina says, "but in hindsight I think it's the best decision we made as a team. We have a lot of incredible things planned leading up to summer 2022, starting with the mini pop-up this summer," she adds.
View from the Brooklyn Bridge Park

"Cornell has made it possible to make my big dreams a reality!" —Karina Popovich '23
INERTIA is partnering with Girls Who Code, Kode With Klossy, and community organizations to spread the word. Current sponsors include Autodesk, Stanley Black and Decker, and Microsoft, with others in the pipeline.
Cornell and the Cornell community have also been instrumental in supporting Karina and her team. "We have received so much support for this project, from staff, students, and alumni. I am realizing just how special Cornell and the community it has cultivated are," she says.
Karina says that Amy Bunszel '89 facilitated Autodesk's sponsorship for INERTIA, and Mia DiMaio '20 serves as an advisory board member. "Our advisors are actively involved in the pop-up development, serving as mentors for our team. We are thankful for their support and guidance as we navigate uncharted territory," Karina says.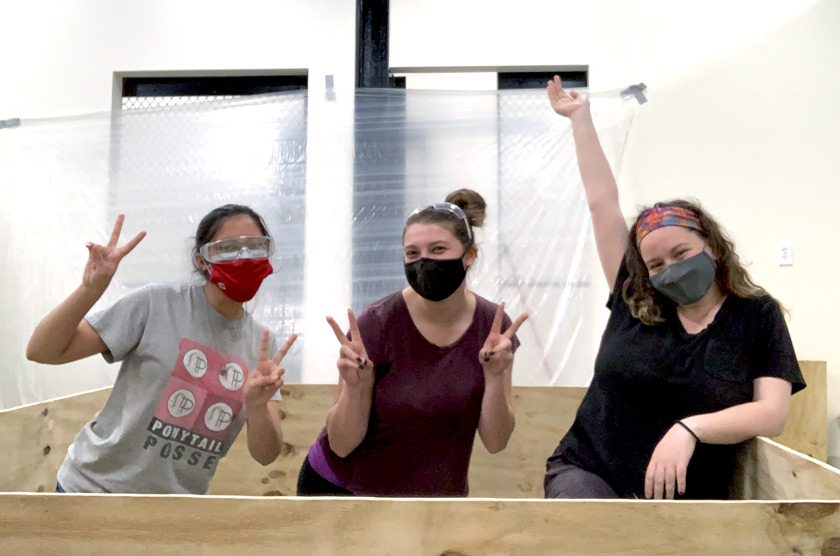 Karina invites Cornell community members, especially those with media and marketing expertise, to reach out and support INERTIA's work. "We believe that making this a larger conversation is what will make the difference," Karina says. "As INERTIA grows, the harder it gets to stop the object in motion—in this case, girls in STEM!"
The exact location and dates for this summer's pop-up will be announced shortly. To be updated, subscribe to INERTIA's newsletter.