The Cornell men's lacrosse players, current and former, have a pre-Thanksgiving tradition. Called the Turkey Trot, it's a conditioning run the current players do on campus. Alumni around the country have taken to joining in.
"In New York City, they get up at five in the morning, a group of about 20 of them," says Andy Phillips '84, MBA '86, president of the Cornell Lacrosse Association. "They do this run, then they go to a diner and have breakfast. Where they do it in Manhattan, the run is designed to end at 10th Avenue and 21st Street."
A team with a legacy
Why 10th and 21st? Any Cornell men's lacrosse player, coach, alumnus, or fan can tell you. That's for Eamon McEneaney '77—number 10—and George Boiardi '04—number 21—two members the lacrosse community has lost, but who still inspire and unite the student-athletes and alumni of the program.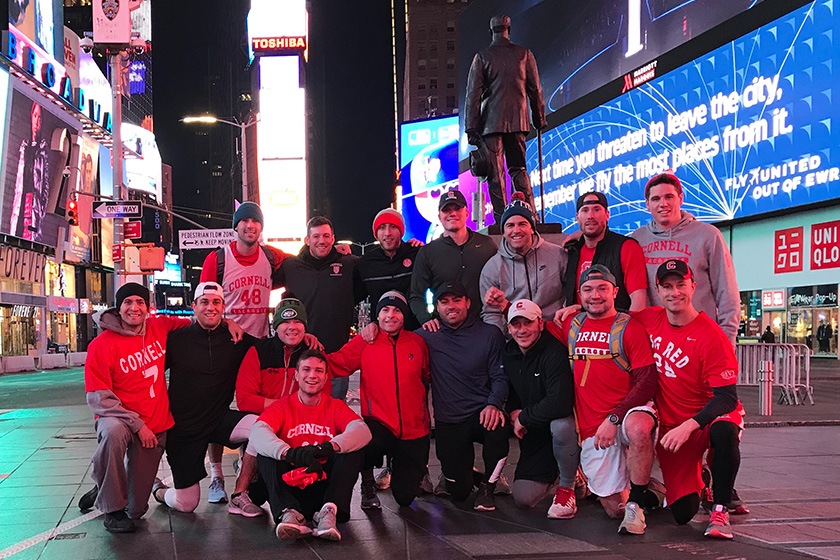 McEneaney, an All-American player and National Lacrosse Hall of Fame inductee, died in the World Trade Center on September 11, 2001. George Boiardi, a team captain, was fatally injured during a game March 17, 2004, struck in the chest with a lacrosse ball.
"Whenever lacrosse alumni get together, thoughts drift to Eamon and George," says Phillips. "These men have been so influential."
As students, players learn about number 10 and number 21 and their wearers' contributions to the program, says head coach Peter Milliman. The shared knowledge adds positive motivation for players during their time at Cornell and beyond.
"The culture we build here has to have a reference to George and Eamon," says Milliman. "It's part of who we are. It's part of who they are."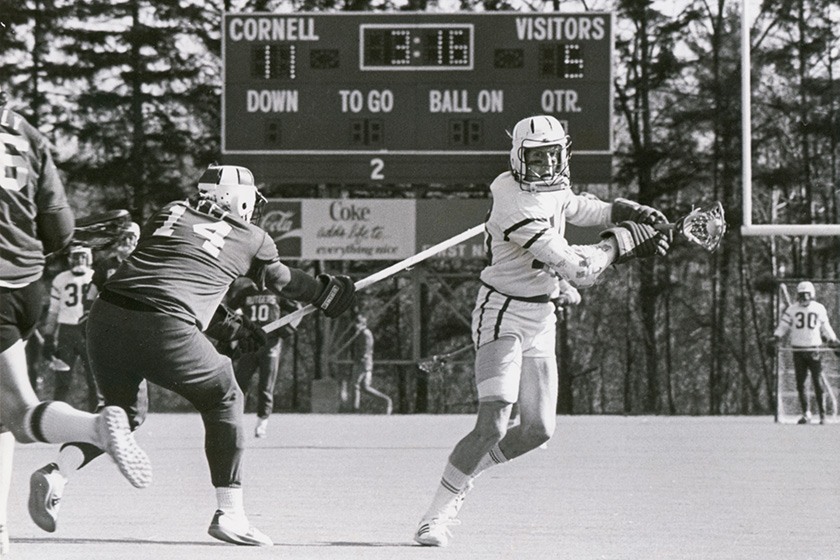 Number 10 and number 21 are part of a multi-generational Cornell lacrosse community that values continuity, dedication, and generosity. Alumni, coaches, and the team's current players will channel those values on October 21, when they aim to raise a full year of annual fund support in one day during this fall's athletics team phonathons.
Continuity and generosity
Thirty-seven of the thirty-nine Cornell athletics programs, including the Big Red Bands and Cornell Outdoor Education, participate in annual phonathons—which started on September 29 and are scheduled to run through the end of October—to raise money for their programs and to build bonds between current students and alumni.
"On campus, you're a Big Red athlete day in and day out," says Joe Rogan, who directs the phonathons as assistant director of alumni affairs and development for Athletics and Physical Education. "When you graduate, phonathons serve as a way to reconnect. Alumni get to have honest, genuine conversations with the athletes in their sport."
In 2018, athletics phonathons raised $1.6 million. With the exception of a few gifts to endowments, all of it went directly to teams' annual funds. Annual funds cover the big three costs, says Rogan: "Travel, equipment, and recruiting."
Yes, it's important to stay connected to your classmates and teammates, but what makes us special is our ability to connect the different generations.
—Andy Phillips '84
While most athletic teams raise a significant portion of their annual funds during phonathons, men's lacrosse aims to raise its full annual fund, $325,000 on October 21. Student-athletes will make calls from campus, a livesteam event will keep fans updated, and some alumni of the program will make calls, as well.
Multi-generational community
Cornell men's lacrosse, like many athletic teams, cultivates a highly engaged, multi-generational community. In addition to sharing an inspiring legacy, members of this community have fun together and support each other.
"We have a pretty passionate alumni base," says Phillips. "The alumni feel connected to the program. They're connected to their classmates and teammates. They're connected to the coach they had; they're connected to the current coach and current players; they're connected to different generations of alumni. Yes, it's important to stay connected to your classmates and teammates, but what makes us special is our ability to connect the different generations."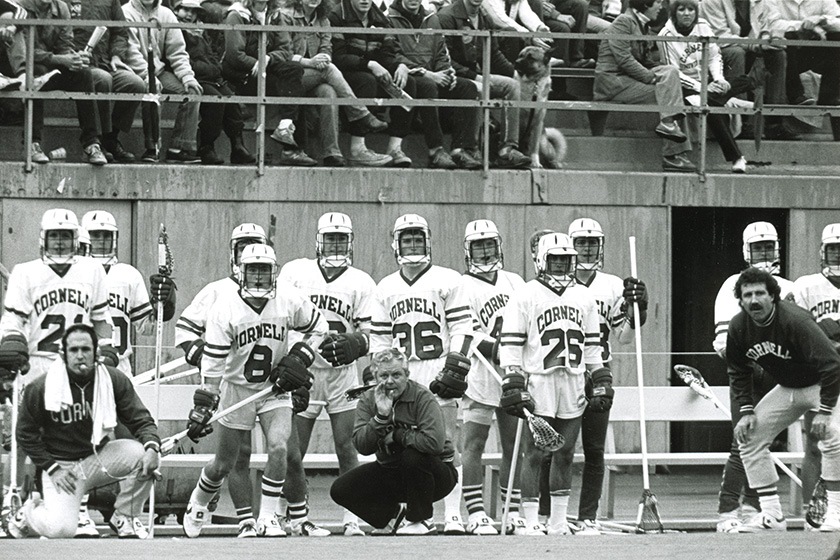 The Cornell Lacrosse Association focuses on four main activities. First, an alumni weekend every fall features the Eamon McEneaney Memorial Golf Outing and gives alumni a chance to meet the current players and coaches. Second, game day hospitality during the spring season welcomes alumni, friends, and fans to home and away games.
Third, the alumni association helps to raise money to meet the program's annual fund needs, including travel, equipment, training, and other essentials. Finally, alumni provide career advice and assistance for student-athletes.
An active alumni association of one name or another has been an important part of establishing a culture of giving back for decades, says Richie Moran, famed former coach. He knows of some alumni who still carry their membership cards from the Cornell Lacrosse Club, established in 1969. "They learned about giving at an early stage and they haven't stopped."
In recent years, lacrosse student-athletes have been giving back, too. In 2018, thanks to joint efforts of alumni and student leaders, 100% of men's lacrosse team members gave to the annual fund. This year, the team will attempt 100% participation again, with a deadline of October 21.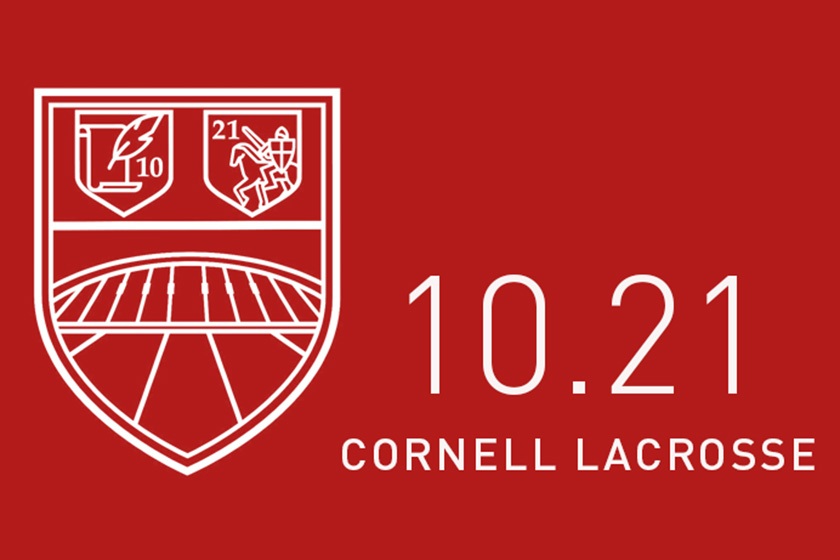 "In planning for the 2019 player donation drive, we decided that the players donations would be made on 10/21, a date that has significance to our team," says Phillips. "Independently, we had been thinking about moving the phonathon to the fall for a variety of reasons. It then occurred to us that it could be a powerful message to say: 'Our players make their annual contributions on 10/21 in appreciation for all that Cornell Lacrosse has given to them. We invite you to join them.'"