A jet pilot, entrepreneur, venture capitalist, and philanthropist, Roger Burnell '66 describes himself simply as a "student of life." He dives headlong into new adventures—from training his family's golden retriever for various dog show competitions, to exploring the field of wireless precision medicine, his latest intellectual passion.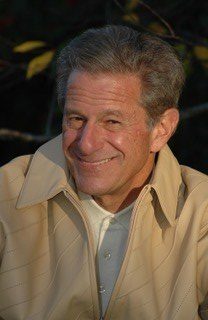 In 2017, Burnell brought his zest for life and learning to a new level: Through a $5 million gift commitment, he and his wife endowed the Roger and Joelle Burnell Chair in Integrated Health and Technology at Cornell Tech.
The gift crystallized a few of Burnell's interests and aspirations: After creating a scholarship at Columbia University in 2001 in honor of his father, who was an alumnus, Burnell had been considering a similarly transformative gift to his own alma mater. In the past couple of years, he had also become an angel investor for biotechnology start-ups such as Rejuvenan, and he sought to make a complementary investment in academia, which he believes is a vital, symbiotic partner to industry. Based in Los Altos, California, but raised in Scarsdale, New York, Burnell also feels a "spiritual and genetic" connection to New York, and he was very eager to help advance the region's own burgeoning version of Silicon Valley, where he sees Cornell Tech as the central driving force.
"The gift was a coming together of my dreams, and I found myself on a mission," Burnell said. "Why not do something for Cornell that really matters, that makes a difference in the world?"
The Burnell Chair will play a crucial role in teaching and research at Cornell while spurring breakthroughs to benefit communities far and wide, according to Deborah Estrin, the founder of the Health Tech hub in the Jacobs Technion-Cornell Institute, and the associate dean and Robert V. Tishman '37 Professor at Cornell Tech.
"The health-care world is looking for technology to spark innovation in the industry, and to make health care more effective, accessible, and affordable for all. At Cornell Tech, the Jacobs Institute's Health Tech program was launched just a few years ago, and we are already making strides with groundbreaking faculty research, student start-ups, and industry collaborations," she said. "The new chair will help us attract world-class scholars, committed to visionary, tech-driven improvements in healthcare and wellness."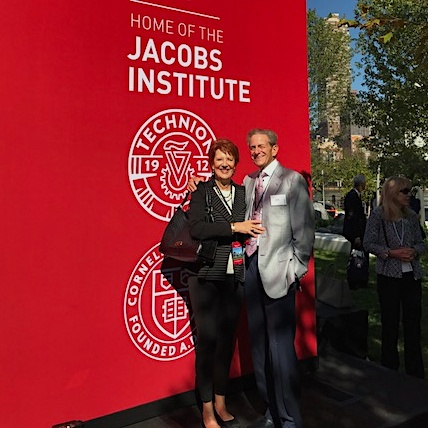 Dan Huttenlocher, the vice provost and the Jack and Rilla Neafsey Dean of Cornell Tech, added: "Using digital technology to help improve health and wellness is central to Cornell Tech's academic and research mission, and a key element of our drive to develop pioneering leaders and technologies for the digital age. We're thrilled to announce the new Roger and Joelle Burnell Chair in Integrated Health and Technology, helping us to drive innovation in the area of bioscience with collaborative research and teaching."
The search for an academic leader to fill the position is underway, and Burnell is confident that the chair will galvanize generations of trailblazers in the same way he was shaped by his own Cornell mentors.
In particular, Burnell credits philosopher Alan Bloom (whose Introduction to Western Political Thought he chose for his final elective while an electrical engineering student at Cornell) for teaching him the Socratic Method of inquiry and critical thinking that has guided his eclectic pursuits ever since. In the same vein, he challenges the Burnell Chair to "inspire questioning, learning, and wisdom," setting Cornellians on a lifelong path of curiosity, surprise, and discovery.