For Sofia Villacreses, who lived in Ecuador until she emigrated with her mother to New York City at age 11, the plan for college had been modest; attend LaGuardia Community College then transfer to the City College of New York. But as two years of community college drew to a close, her friends pointed out her potential.
"Because I had a good GPA, my friends told me, 'You should try one of the higher schools. Just give it a shot.' So I did."
When Villacreses got into Cornell's College of Engineering, she was "pleasantly surprised," but doubted she and her mother could afford tuition, and her dream of an Ivy League education dissipated.
"When I saw that I had been given scholarship funds to aid my attendance," she said, "I was ecstatic. All my hard work had paid off."
The John E. and Elaine Meed Alexander Scholarship and other grants make it possible for Villacreses to reach higher in her education than she'd thought possible.
"Someone has my back"
Getting into Cornell was her first step. Receiving financial aid was the next. But then came the course work. The first year at Cornell was academically challenging for Villacreses, who is majoring in civil engineering with a dream of using her skills to help the environment. The demands of required classes and the change of pace from her previous college seemed like road blocks, not building blocks.
"I had a class on the statistics and mechanics of solids. I was struggling in it. I kind of liked it, but I still did not do so good. I also had linear algebra, which I hated. I had MATLAB," she said, referring to matrix laboratory software used to work on many engineering projects, "and I hated it!"
Fortunately, Villacreses got help through the difficult times from Diversity Programs in Engineering (DPE), which received the Presidential Award for Excellence in Science, Mathematics, and Engineering Mentoring from President Obama in 2011. Through academic coaching and a mentoring program, Angelica Keen, assistant director of DPE, connects students to resources on campus to aid their success.
Your kindness has enabled me to expand my horizons and ascend to new heights as a person.
—Sofia Villacreses '19
"I have supported Sofia since she transferred to Cornell," said Keen. "This entailed helping to guide her transition from a different institution, assistance in navigating Cornell Engineering curriculum, and monthly check-ins for academic and personal goals that she set at the beginning of the year."
The whole DPE staff continues to be an encouragement, said Villacreses, who frequently stops in the office just to chat. "It's nice to know that if I ever have any problems, someone has my back."
Discovering her path
Villacreses is now in upper-level courses, forming her specialty within engineering. A favorite class is Coastal Engineering taught by Professor Edwin "Todd" Cowen.
"Right now, we're learning wave motion, understanding how waves work," Villacreses said while overlooking Libe Slope on the first warm afternoon of the semester. "It's fun because he knows his stuff, and he also knows how to teach it. Today we had a really cool MATLAB demo," she said. "I have never seen so many people excited about MATLAB before."
She enjoys working with the aspects of civil engineering that have to do with fluids and bodies of water—an indicator that coastal engineering is a possible career path. She's also developed a fondness for the management aspect of civil engineering.
I have never seen so many people excited about MATLAB before.
—Sofia Villacreses '19
"I hope that getting an internship or research in the summer will give me more experience and help me decide what to pursue," she said.
New heights
While Villacreses is finding her way through her engineering studies and into a career, she helps others find more concrete paths—up the rock faces at the Lindseth Climbing Center and Noyes K2 Bouldering Wall, where she works as a climbing czar, overseeing equipment and safety.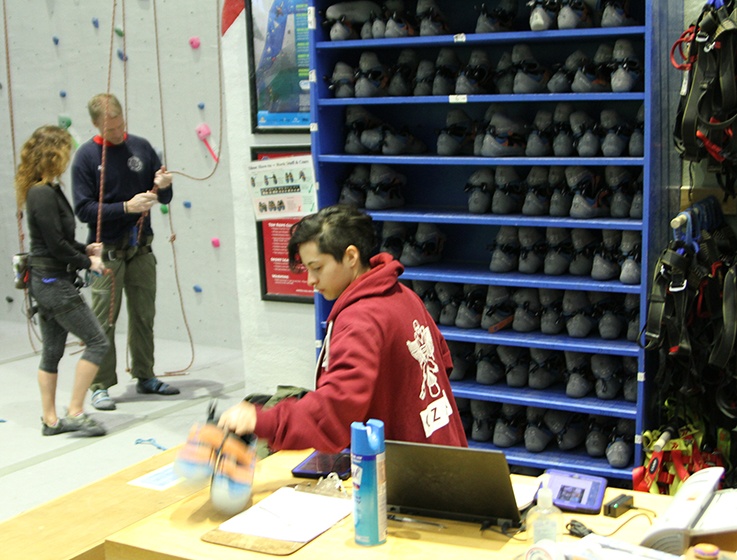 Her main exercise focus has long been weightlifting, but this year Villacreses discovered a new sport when she got into a gymnastics class.
"Gymnastics is more body weight movement control and tumbling. It's surprisingly hard," she said. "I can hold a handstand for five seconds, maybe six. But that's a special occasion."
With her student life in balance and multiple prospects ahead, Villacreses says she is grateful for friends, staff, and donors who have made her Cornell education a reality.
"Your kindness has enabled me to expand my horizons and ascend to new heights as a person," Villacreses wrote in a recent letter to John '74, MBA '76 and Elaine '77 Alexander, the donors of one of her grants. "On behalf of my mother and me, we are truly grateful."