With $7,053,386 raised from 10,145 donors in just 24 hours, Cornell Giving Day brought Cornell community members together from all over the world to join in giving.
"Philanthropy has been essential to Cornell's success since 1865," said Fred Van Sickle, vice president for Alumni Affairs and Development (AAD). "Giving Day is a unique opportunity for the Cornell community to come together to support our students and programs. The collective impact Cornellians have had in just 24 hours is tremendous, and we're excited to see the impact of these investments."
Global and social challenges help raise the bar
Alumni, parents, students, faculty, staff, and friends from across the globe made Giving Day 2020 a success. Donors from a total of 46 countries and all 50 states, plus Puerto Rico and Washington DC, unlocked the Big Red, White, and Blue Challenge to provide an extra $2,000 for undergraduate scholarships. The College of Veterinary Medicine, Library, Botanic Gardens, Student and Campus Life, and the Herbert F. Johnson Museum of Art succeeded in the Raise the Bar challenge for the second year, winning an extra $2,125 each in funds for their students and programs.
"This a remarkable result given the unprecedented events of the past week," says Andrew Gossen, executive director for digital in AAD. "It is testimony to the strength and loyalty of the Cornell community, which never fails to rally behind Cornell and fellow Cornellians in need."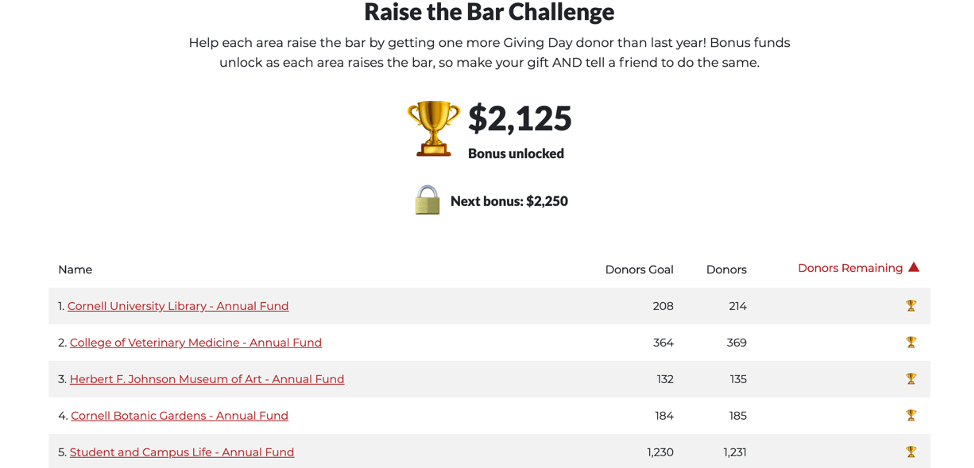 Several support areas raised an additional $2,500 to $100,000 in college-specific challenges and matching gifts. Social media challenges resulted in several thousand dollars won for multiple colleges and other areas.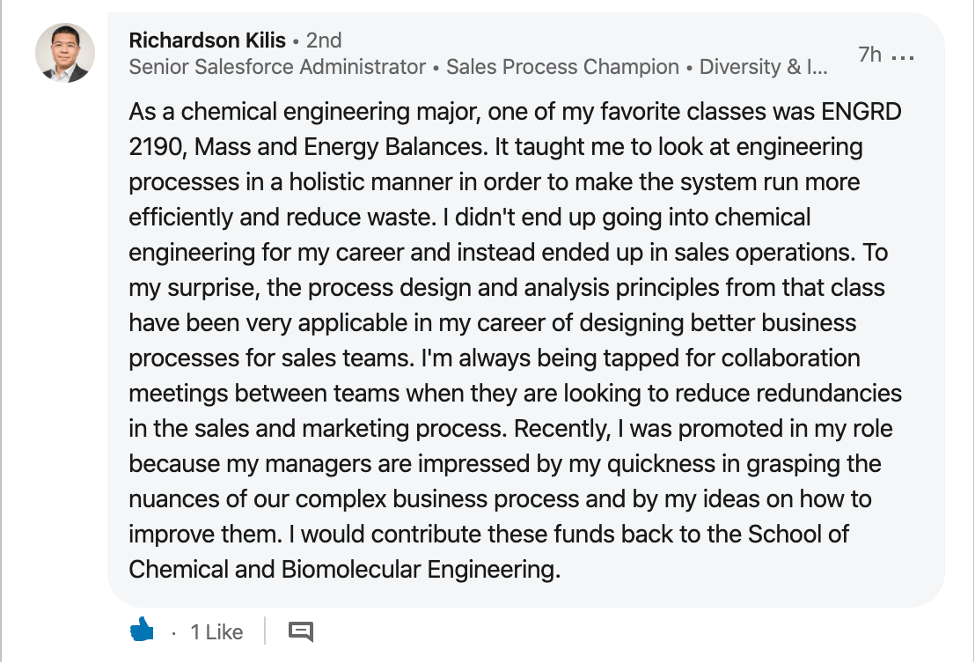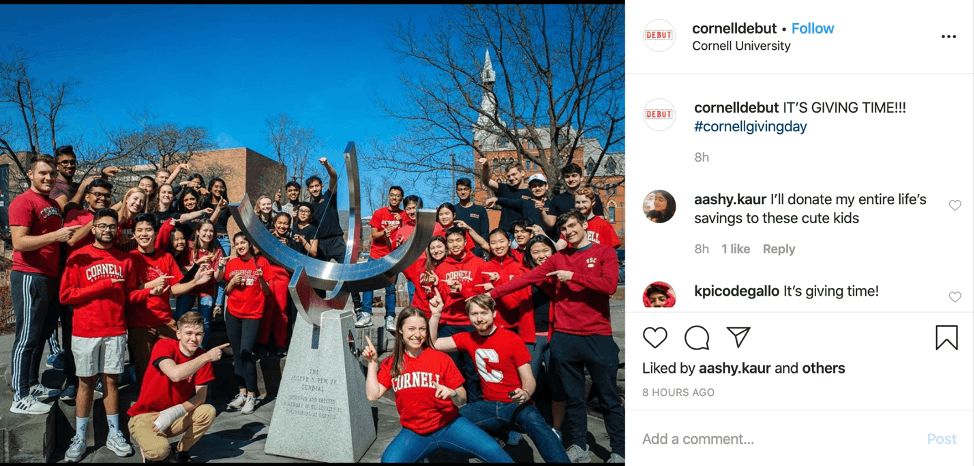 Timely peer support
More than 180 volunteers participated as Giving Day Fundraising Champions from around the world, asking their classmates and friends to support funds or causes they care about. Peer-to-peer outreach has been a hallmark of Cornell's noteworthy fundraising approach for decades and, in the digital era, it is an essential part of Giving Day success, too.
A focus for many this year was the student access fund within Student and Campus Life. The fund provides grants to Cornell students who are first-generation and/or from low-income backgrounds to help cover unexpected, emergency expenses that may not be covered through financial aid or other university resources. Nicole DelToro '91 matched Giving Day gifts to the access fund, up to $10,000. Two hundred twenty-nine donors gave $36,864, providing immediate emergency funding for students in need.
This aid is especially important as students prepare to leave campus and transition to online classes for the remainder of the semester following spring break. Several members of the senior class also came together as Fundraising Champions to support the access fund helping to bring in $600 for emergency travel expenses for students to get home.
Vijay Pendakur, the Robert W. and Elizabeth C. Staley Dean of Students, shared his gratitude as well.
"I am so thankful for the generosity of the Cornell community during this unprecedented time," he said. "This additional support for the access fund will allow us to help many more students as they face uncertainties and unexpected challenges."