When Phil Yuen '00 heard Cornell was reopening for in-person learning this fall, he saw an opportunity to partner with the university to help make campus safer. His company, Aurabeat Technology in Hong Kong, has developed an air filtration system that can eliminate 99.9% of SARS-CoV-2, the virus that causes COVID-19, from the air indoors.
When the pandemic began, Yuen partnered with scientist Dr. Roger Sze To, former research assistant professor of the Hong Kong University of Science and Technology and the technical director of Aurabeat. Yuen says that Sze To "told me 'this [virus] is going to be lifechanging.' Unfortunately, he was right."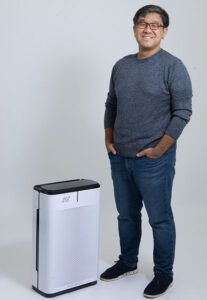 The two refined some of the work Sze To had already started to create a filter that not only removes viruses from the air, but kills any that remain on the filter itself. Sze To fine-tuned the filters to specifically target SARS-CoV-2, and the company developed two lines of products – filters that can be installed in existing HVAC systems, and a stand-alone home-use product.
Yuen, who is CEO of Aurabeat, wanted to bring the technology to people who need it, starting in his own community. Since the start of the pandemic, Aurabeat has successfully installed the new anti-viral filters in government buildings, hospitals, and blood donation centers throughout Hong Kong. Restaurants and gyms have been ordering units, and the company has also donated some to local schools and elderly homes.
The next step: bringing the technology to Cornell
"I saw on the news that Cornell was one of the few schools deciding to let folks back on campus and do in-person lessons," Yuen says. "And I thought, let's find a way to get our product out there and help."
It wasn't an easy task. Aurabeat was certified in the U.S., but hadn't yet begun production. Yuen scrambled to get the right materials to manufacture the stand-alone air purifiers for Cornell as students began arriving on campus.
I thought it would be pretty amazing if I could play a small part in this, and if everybody banded together. Sometimes it's not the easiest path, but you can still do a lot of good in the end.
—Phil Yuen '00
"We weren't producing them yet; we didn't have a retail plan for the U.S. yet," Yuen says. "So, when this idea came about, I was frantically calling the factory."
His hard work, jumping through a lot of logistical and production hoops, paid off. Yuen was able to manufacture and donate 30 units to the Statler Hotel, which has been used to house students in isolation because of COVID-19.
Danny Disidoro, director of Facilities Operations for the School of Hotel Administration, says that the purifiers are stationed in a variety of spaces in the Statler, including guest halls, break rooms, offices, and guest rooms (all of which are currently being used for quarantine). The purifiers are deployed in guest rooms after a student has left quarantine, as one of the cleaning measures, and are one part of Cornell's larger reopening plan, which has been successful in limiting the spread of COVID-19 among the Cornell community.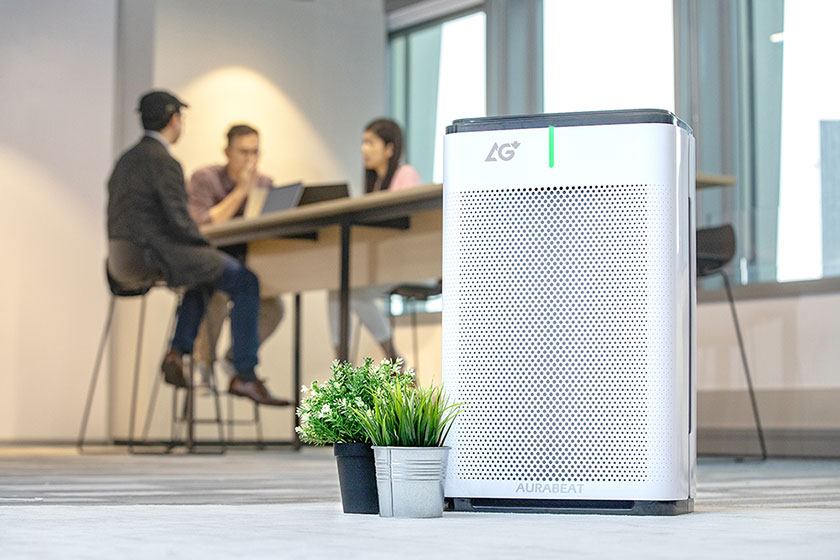 "When used along with other best practices recommended by CDC, such as physical distancing and wearing a mask, increasing indoor ventilation to reduce the concentration of SARS-CoV-2 in the air can be an important part of a plan to reduce risk of COVID transmission," says Sharon McMullen, RN, MPH, FACHA, assistant vice president of Student and Campus Life for Health and Wellbeing.
Demand for products like Aurabeat's filters has skyrocketed because of their role in fighting COVID-19. Yuen is glad he was able to fast-track production to bring the filters to Cornell students in time for the start of in-person classes this fall. "I'm really glad it helped," he says. "I'm glad it's helping students go back."
Yuen also hopes his gift inspires other alumni to do what they can to support Cornell during the pandemic, whatever that might mean for them.
"I thought it would be pretty amazing if I could play a small part in this, and if everybody banded together," Yuen says. "Sometimes it's not the easiest path, but you can still do a lot of good in the end."