Community-engaged learning taught me how to change the world. We need to really lean into this. If we come together around these ideals, imagine what we can do together.
—Dustin Liu '19
Throughout his Cornell career, Dustin Liu '19 was deeply involved with the community-engaged learning initiative (CEL)—a university-wide effort to involve every Cornell student in learning with and from communities.
Dustin says that his engagement with the larger Ithaca community started from the moment he first set foot on the Cornell campus to take part in a pre-orientation service trip. His team worked together on service projects at Ithaca High School and Ithaca Children's Garden.
He says his teammates "came in as strangers, but left as family who became connected through service," adding, "It was because of these experiences that I began to call Cornell, and the greater Ithaca community, home."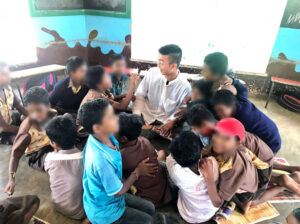 Dustin went on to volunteer as a math tutor at Ithaca High School. This was just the start of an engagement journey that included service as a student-elected trustee, an advisor for a peer-to-peer mentoring program targeting underserved high school students, an ILR Global Service Learning Program in India, a Fulbright fellowship in Malaysia, and his current role as a UNA-USA Youth Observer to the United Nations.
A groundbreaking vision for Cornell
Imagine if every graduate had the tools to seek out and build relationships with others, to solve community problems. This is what it means to be a Cornellian.
—David Einhorn '91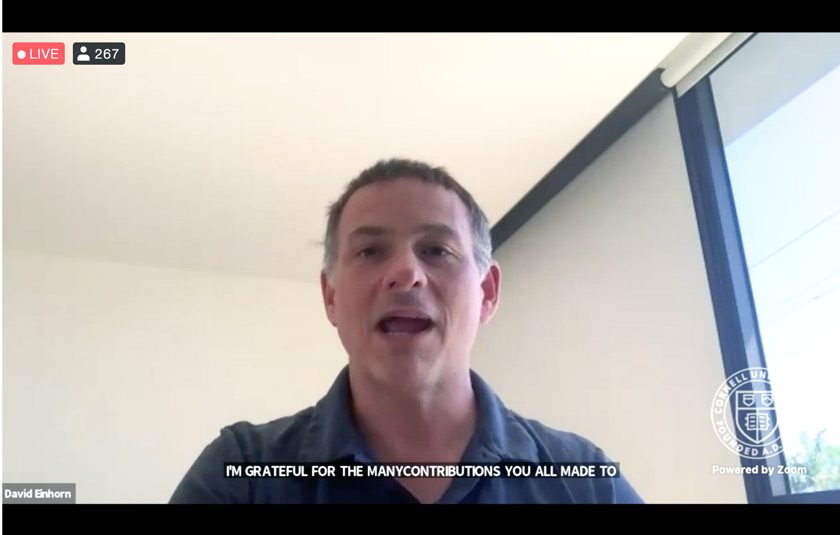 Six years ago, the Einhorn Family Charitable Trust – a foundation now known as Einhorn Collaborative – made a $50M gift to Cornell to launch the CEL initiative and ensure that community-engaged learning is a hallmark of the Cornell undergraduate experience.
As part of the Cornell Alumni Leadership Conference (CALC), held online on Feb 24-27, David Einhorn '91 shared the motivation for investing in community-engaged learning and his aspirations for the initiative. Hundreds of Cornellians tuned in to the livestream presentation on Feb 26, "Stories from the Inside: Cornell's Commitment to Public Engagement."
Katherine McComas, vice provost for Engagement and Land-Grant Affairs, moderated the discussion between David, Dustin, Ezi Osuoha '22, and Tony Burrow, associate professor of human development and winner of the 2019 Engaged Scholar Prize.
"We want every undergrad at Cornell to experience what it's like to work with a community partner to solve problems and serve the greater good," Katherine says.
Equipping students with empathy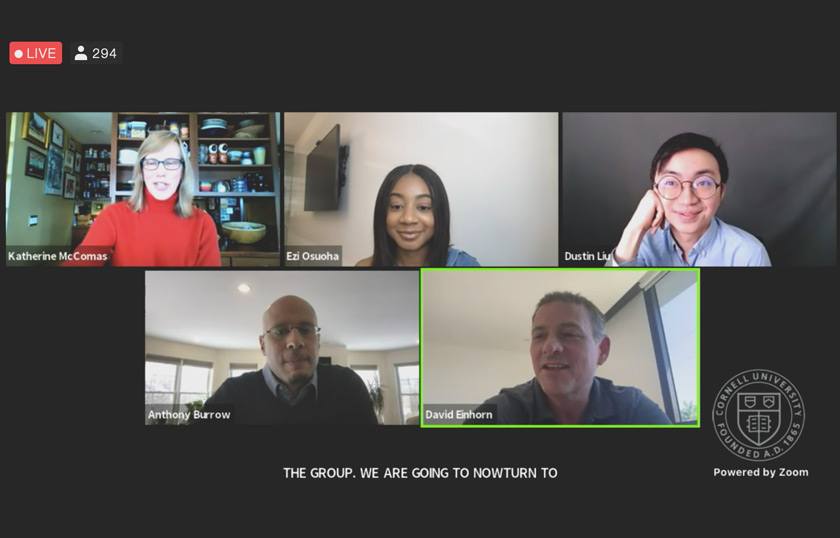 David says that he came from a Cornell family and that his parents, Nancy and Steve Einhorn, were both active members of the Class of 1964. Although this was his first time participating in CALC, David has been working with the university over the past decade on a strategy to cultivate "more empathetic graduates."
For David, this means that every undergrad has the opportunity to "work with a partner to solve a community problem."
"I've come to believe that a critical ingredient to solving problems is a much greater degree of human involvement. If we can help people engage openly and respectfully with one another, we can push beyond the framework of us versus them," he says. "We all know that the answers lie somewhere in between," he adds.
Reaching every undergrad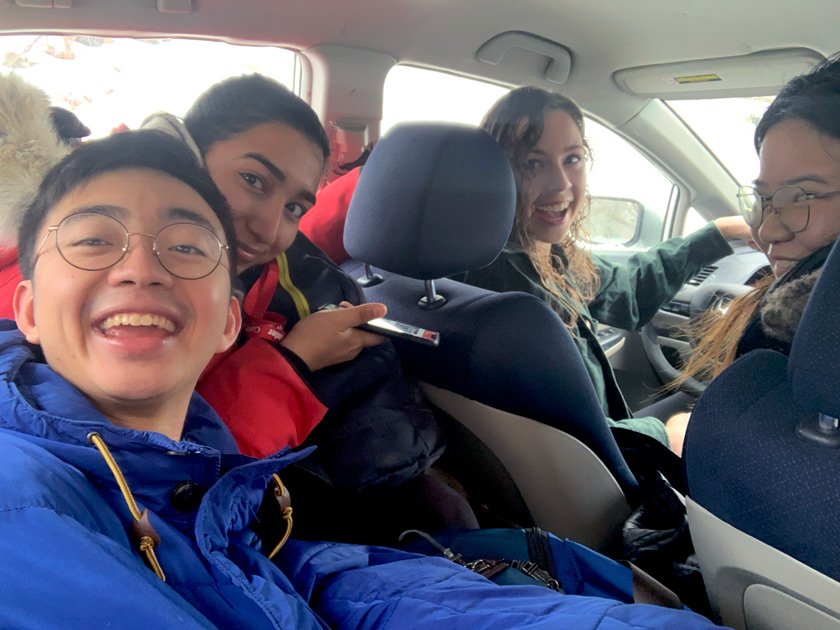 David says that he thinks college is the ideal time to encourage students to expand their world view and life experiences across race, class, and geographic boundaries. The goal of community-engaged learning is to push students beyond their comfort zones into dialogue with others, with whom they collaborate to solve problems. CEL is currently on track to reach every student by 2025.
CEL gives students hands-on practice with listening, communicating, negotiating, compromising, and building consensus across interpersonal, cultural, and societal differences. In the current moment, David believes that such experiences are critical to educating students who are prepared to solve the challenges that face our communities, our nation, and our world.
"It's become way too easy to surround yourself with people who agree with you," he says. "Imagine if every graduate had the tools to seek out and build relationships with others, to solve community problems," he says. "This is what it means to be a Cornellian," he adds.
Unlocking their super powers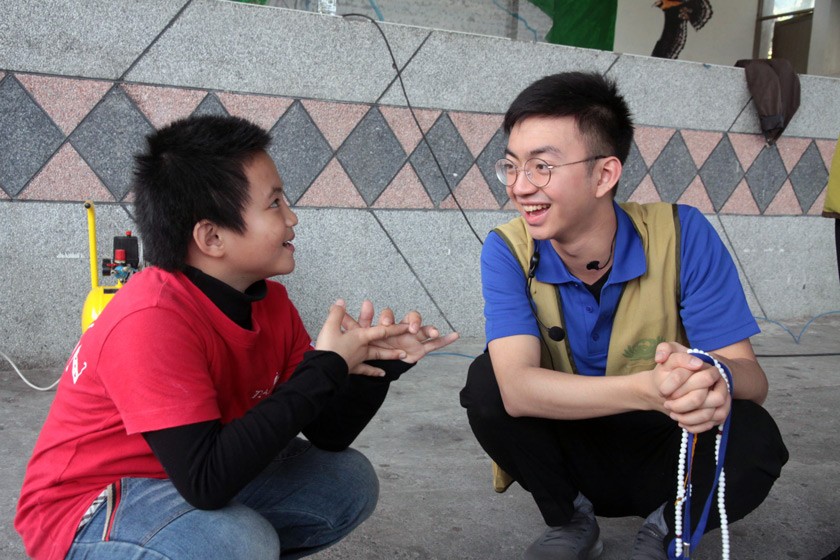 Dustin shares that his engaged learning experiences at Cornell were deeply empowering. He clearly recalls the moment when his belief in magic died. He was a nine-year-old sitting in the school cafeteria, waiting for his letter from Hogwarts to be delivered via owl. "The lunch room attendant told me that my letter from Hogwarts would not come," Dustin says.
He believes that our sense of magic influences what we believe to be possible. "Ever since then, I've tried to get back this sense of magic. Engaged Cornell gave me the tools to change the world and showed me that I could [change the world]," he adds, reigniting his belief in magic.
David says that for students like Dustin, the CEL initiative offers certificate programs that can deepen their commitment to public service and help them become better leaders. Such programs "bring forward the Dustins to reach their maximum potential," he says.
The work of CEL is two-fold: to cultivate future leaders like Dustin and to introduce every student to the power of community engagement. "We need a program for those who are a little less likely to be engaged, to encourage them," David says. "We really are seeking 100 percent participation," he adds.
Extending from Buffalo to Borneo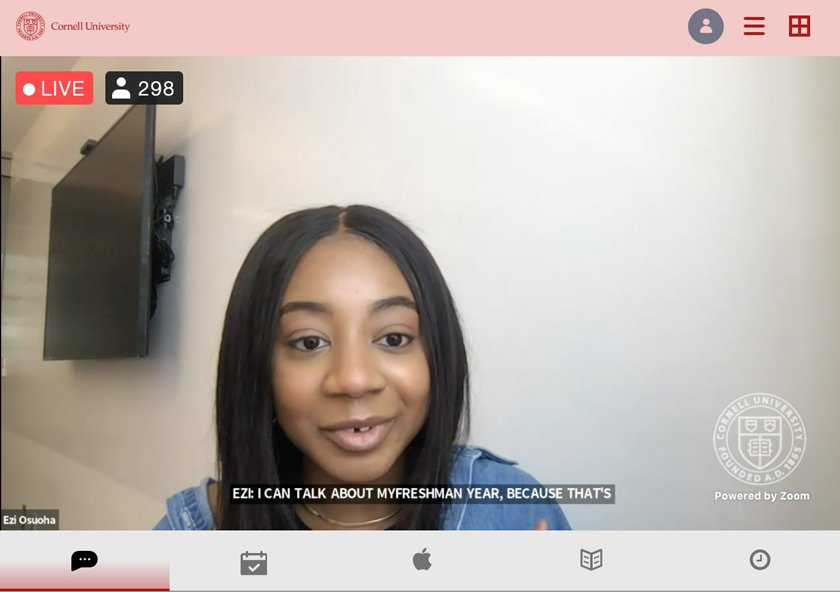 Ezi Osuoha says that she learned about the Cornell in Borneo program through the Office of Engagement Initiatives, and went on to participate during her sophomore year. "OEI has greatly expanded my opportunities on campus," she says.
In her role as an Engaged Ambassador, Ezi shares community-engaged events, programs, and funding opportunities with her peers through Instagram (@engagedambassadors) and other platforms.
David says he is agnostic about the issue around which student engagement happens. For him, it does not matter whether students are involved in solving a local problem or a global challenge like climate change.
The degree to which you feel your purpose is critical to action.
—Tony Burrow, associate professor of human development
Associate Professor Tony Burrow agrees that the issue itself matters less than the level of commitment students feel. "Whatever brings you to the table, you can learn skills and lessons that are transferable to many issues and settings," he says. Tony's research shows that "the degree to which you feel your purpose is critical to action, but the content can move around a little."
According to David, the overarching goal of CEL is to equip students with the tools to solve problems in communities. It's not as important "whether you use them every day, or once a year at Thanksgiving, to negotiate with your family member whom you disagree with," he says.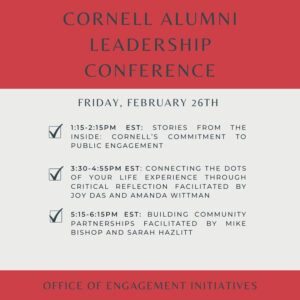 Want to learn more about community-engaged learning principles? Watch two skill-building workshops led by the Office of Engagement Initiatives, specially designed for alumni leaders. Tune in to the CALC channel to view these workshops and other recorded content on demand.