A new $5 million gift to the Cornell College of Human Ecology establishes the Mibs Martin Follett Professor in Human Ecology. The commitment, made by Don Follett '52, honors his late wife, Mabel "Mibs" Martin Follett '51.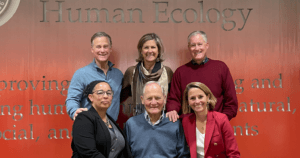 "This professorship allows the College of Human Ecology to support top scholars whose groundbreaking research improves human health and wellbeing for future generations," says Rachel Dunifon, the Rebecca Q. and James C. Morgan Dean of the College of Human Ecology. "This endowed professorship is also a wonderful way to remember a remarkable woman who made her mark helping others."
Eve De Rosa, the university's dean of faculty and dean's fellow for racial and social justice, is the inaugural holder of the professorship. She is currently researching how the body and brain interact to influence cognitive health later in life.
"It is fitting that the inaugural holder of this title is Professor Eve De Rosa, an expert in cognitive neuroscience who also serves as Cornell's dean of faculty, the first woman and person of color to do so," adds Dunifon.
Honoring a lifetime of doing the most good
Throughout their lives, the Folletts put their hearts and souls into efforts that improve the lives of others. They have supported homeless shelters, food banks, and organizations combating poverty in their local community. But at the center of all their giving is a shared value and belief in education.
"At Cornell, we both were really dedicated to getting a good education—that was number one. Everything else was secondary," recalls Don. "Later on, after we got married and became a partnership, we started realizing that we had the ability to give back. We started thinking about how we could help people who have the same motivations we did. From that sprung this whole idea of helping people help themselves at all levels of Maslow's hierarchy of needs."
For Mibs, this focus translated into a lifetime of doing the most good for low-income families in and near their hometown of Easton, PA. She was instrumental in establishing the city's Meals on Wheels program, and she used her skills and passions as a volunteer for several other organizations, including ProJeCt Easton, AAUW Easton, and her local chapter of Head Start. This work combined her passion for education with the opportunity to use her own.
"She was able to become involved with Head Start because of her nutrition background," says Don. Through the organization, which provides learning and development services for young children from low-income families, Mibs provided in-home nutritional education services to local families in need.
"Anything you can do to break the cycle of poverty in a family shows the possibility that you can improve the whole system in your own little way," he adds.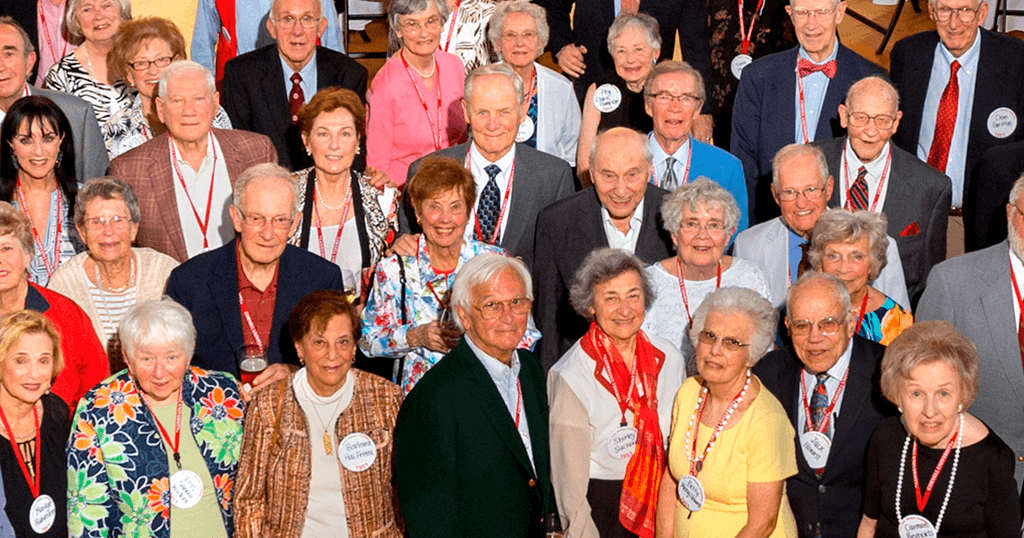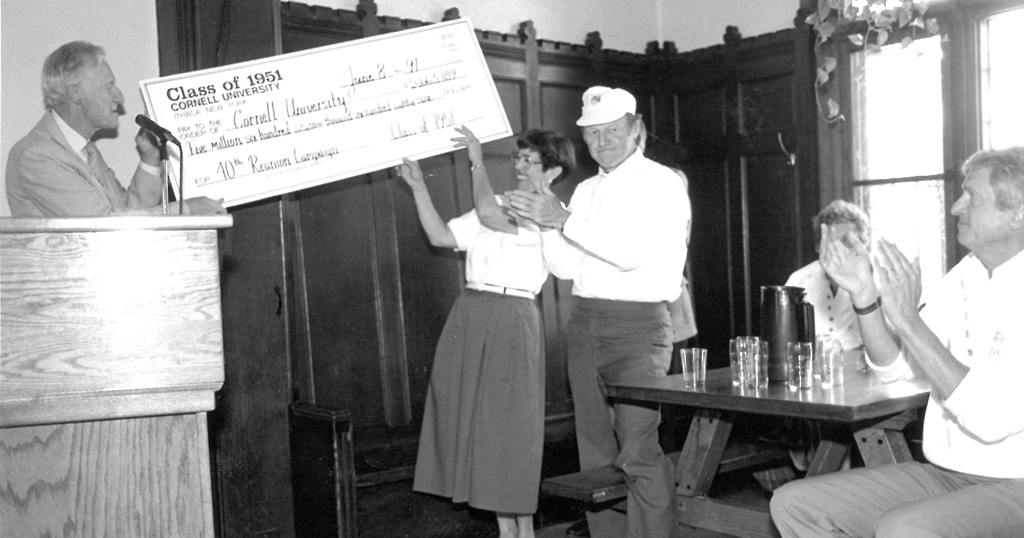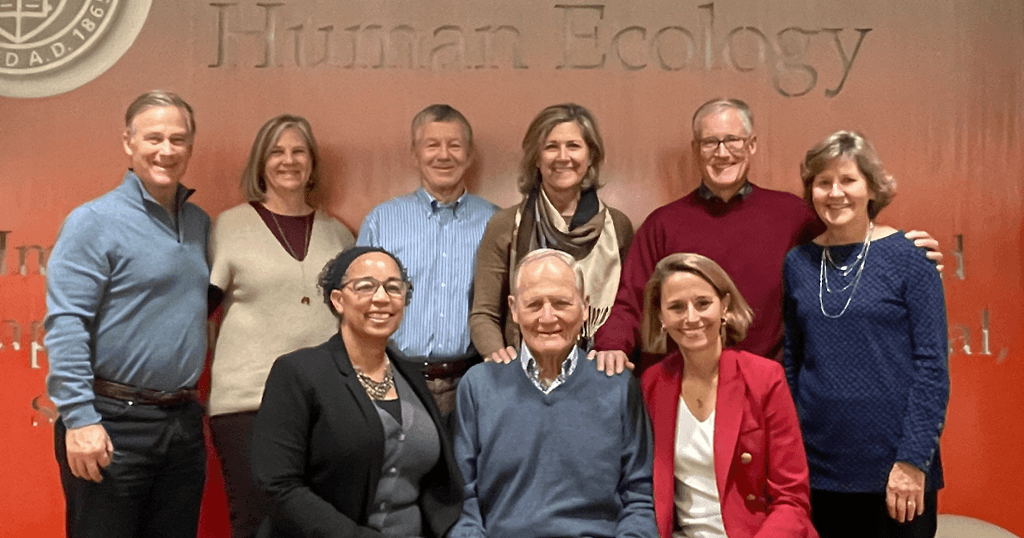 Building on a legacy of giving
In addition to their work locally, the Folletts have shared and acted on their commitment to education in so many different areas of Cornell over the years. Together and individually, Mibs and Don provided vital and exceptional leadership to numerous councils, committees, and associations across the university.
Mibs held the title of president of the Class of 1951, a position she was extremely proud to serve. For over 30 years, she was a key leader in the class's Reunion campaign fundraising and co-chaired major gift efforts. She also served with distinction on the Cornell University Council's Student and Academic Services Committee, and she was an active leader and member of the Student and Academic Services (SAS) Advisory Council and the Class of 1951 Class Council.
Don excelled as the Class of 1952 president and served as a member of the Engineering College Advisory Council. In 2005, he was named emeritus director of the Cornell Engineering Alumni Association. He served on the Cornell University Council's Student and Academic Services Committee, and he was a successful leader and member of his respective Reunion campaigns, having mobilized large committees year after year.
"My closest friends for my entire life are my classmates from Cornell, without a question," explains Don. "These people became my brothers and sisters, and it just meant so much to us."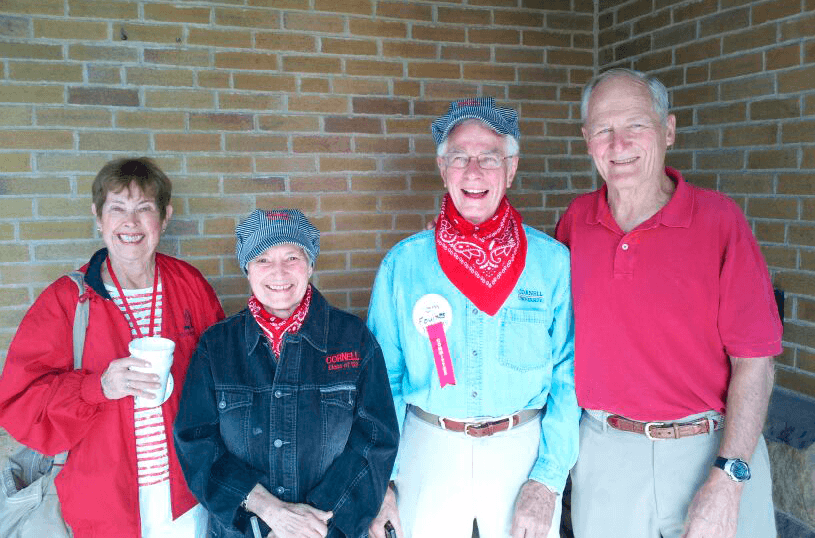 In 1998, Mibs and Don were recognized as Foremost Benefactors of Cornell, and they were honored as recipients of the Frank H.T. Rhodes Exemplary Alumni Service Award in 2008. The Folletts are also among the few Cornell couples who have achieved life membership on the Cornell University Council.
The Mibs Martin Follett Professor in Human Ecology marks their fourth endowed gift to the university. It follows the Don and Mibs Follett Professorship as well as the Follett Family Fellowship—both supporting Cornell Tech—and the Don S. Follett '52 & Mibs Martin Follett '51 Scholarship, an endowed undergraduate scholarship for students in the College of Human Ecology and the College of Engineering.
"You couldn't give your money to a better place than Cornell," says Don. "I want to give away everything. I don't know how long I have. Unfortunately, I can't make that calculation, but I'm having a lot of fun doing it. I love doing it."