Liz O'Dell Wehling has helped with all five Cornell Giving Days, in her role as a staff member with annual giving in Cornell's division of Alumni Affairs and Development. She and her yellow lab "Yale" were posted outside the doors of Willard Straight Hall on Giving Day 2019, loving the job of greeting students.
Since Giving Day began in 2015, students have taken on a larger role in the day's activities. This year, students were invited to stop by Giving Day stations across the Ithaca campus and at Cornell Tech, hosted by individual colleges and schools.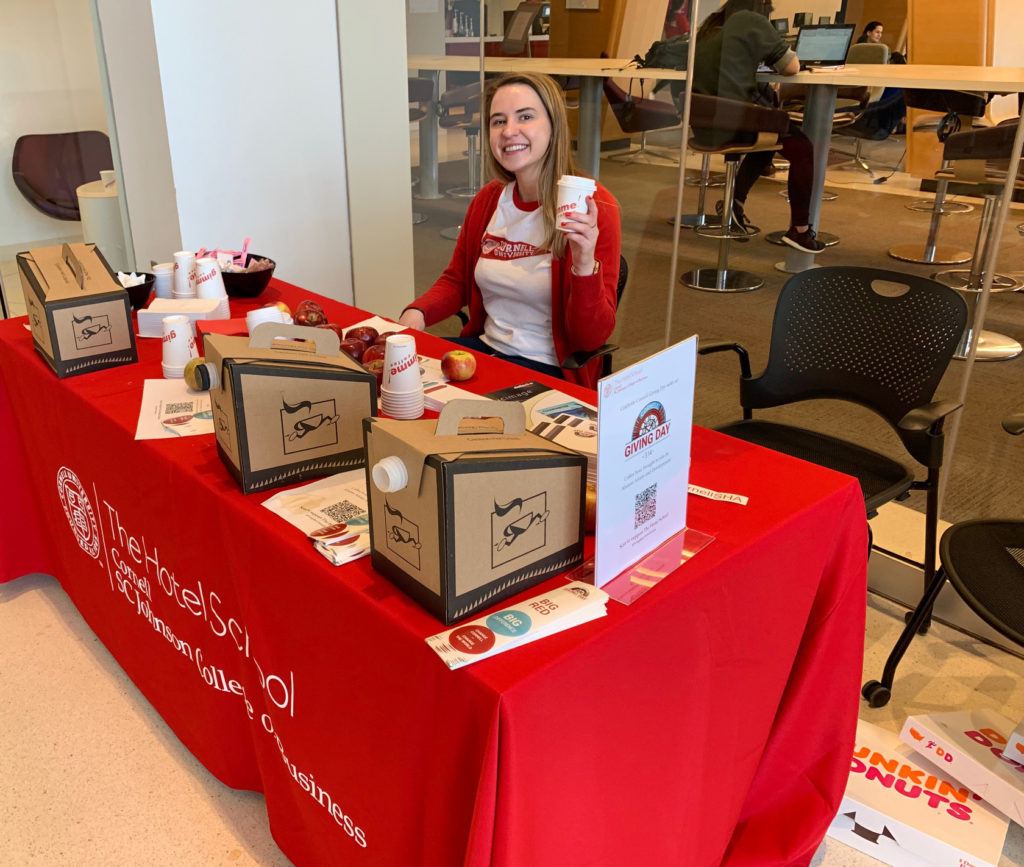 Karinna Browning '17 feels that Giving Day is a great opportunity to raise awareness among students about the importance of giving back. "It's not about how much you give," she said, "but that giving in any amount has an impact."
Students in the College of Engineering were invited to take a selfie at the Giving Day table in Duffield Hall, and post their photo on Instagram or Twitter with the #CornellGivingDay hashtag. They were then gifted with free pizza.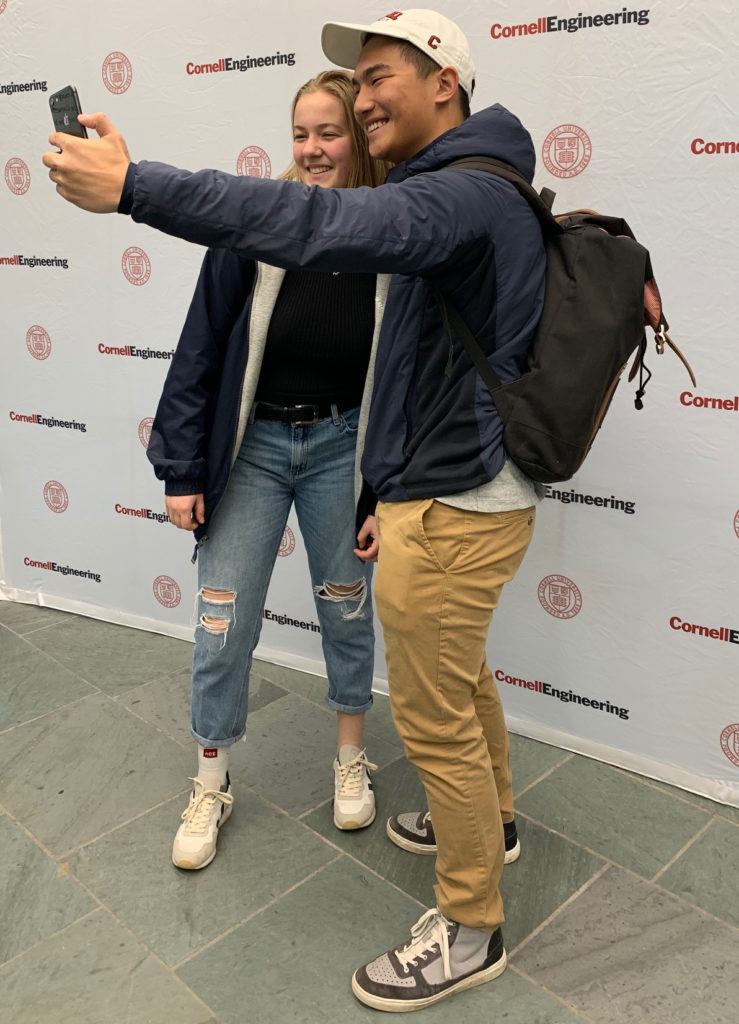 At the Samuel Curtis Johnson Graduate School of Management, there were coffee and donuts aplenty, along with an opportunity for students to make a donation to the Social/Environmental Impact Internship Fund. Class of 2020 MBA students donate to support living expenses for their classmates who choose to do low- or no-compensation summer internships with positive social or environmental impacts. The fund supported three students in 2017 and five students in 2018 for summer internships at the National Park Service, National Public Radio, an impact investing group, and other similar organizations.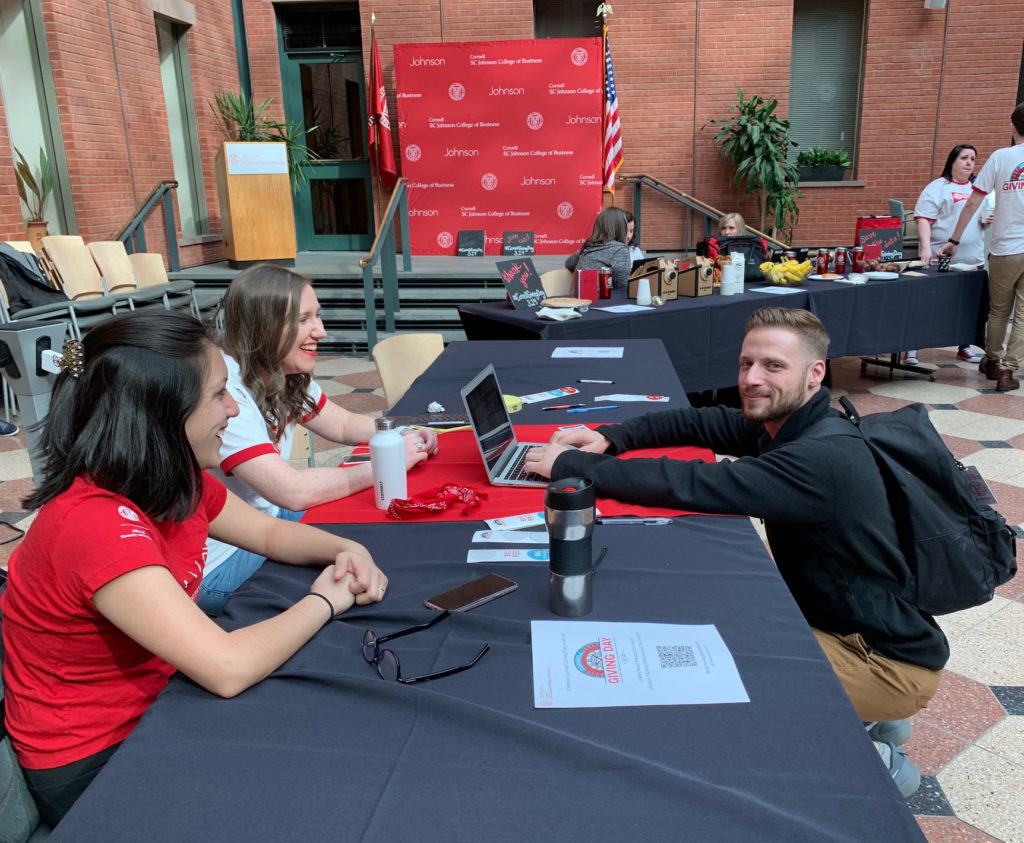 In Willard Straight Hall, members of the Senior Class Campaign invited their fellow graduating seniors to make a donation on Giving Day. The seniors came up with the idea in the fall of 2018, and this was the group's first appearance at Giving Day events on campus. Seniors who made a donation of $5 or more received a red and white braided cord to wear at commencement in recognition of their gift.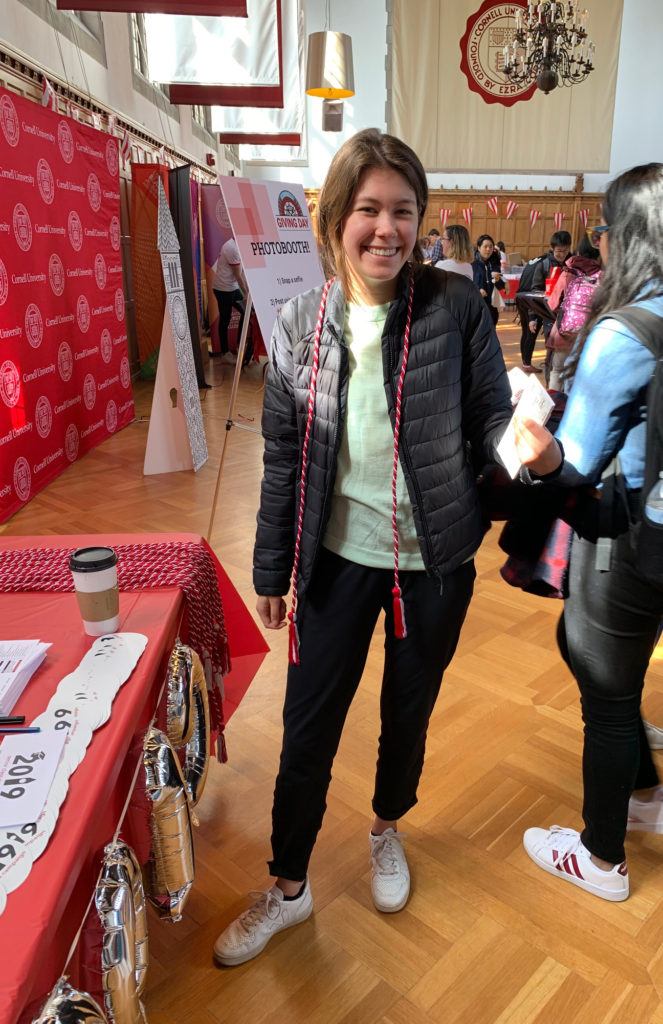 Will Gusick '19, a member of the Senior Class Campaign Executive Committee, said, "We want to encourage seniors to get in the habit of giving before they leave Cornell, so they will carry this habit forward as alumni."
Students were also invited to create handwritten thank-you cards to Giving Day donors. Throughout the day, hundreds of students gathered at tables in the Straight to express their personal thanks.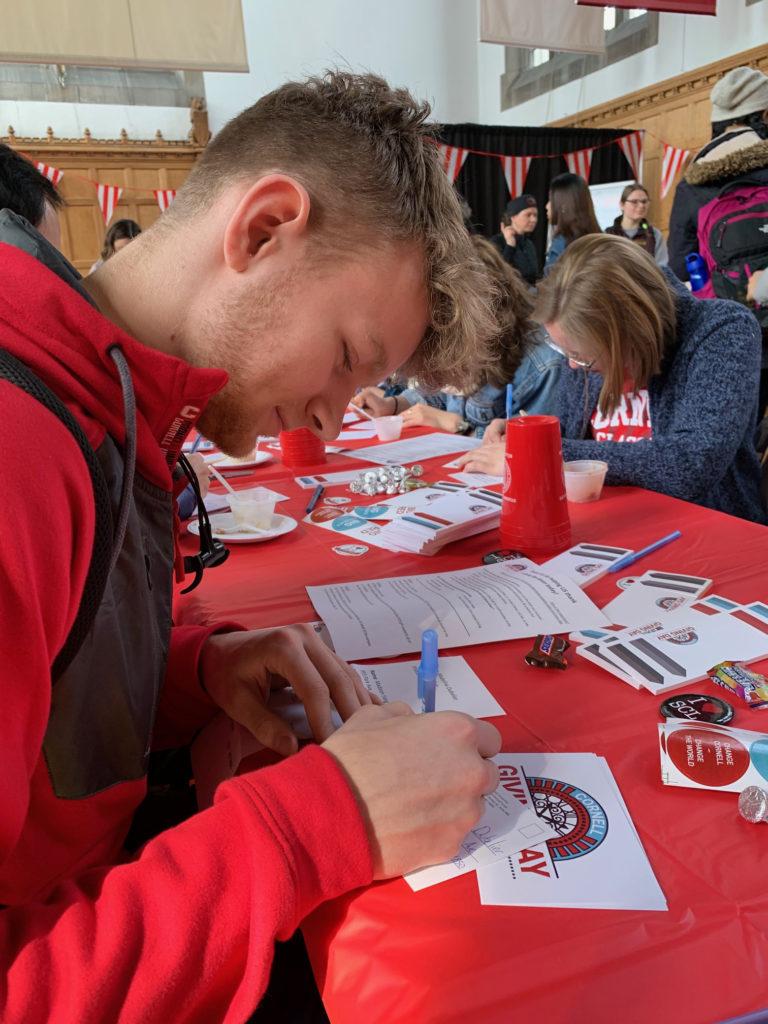 "It's really nice to feel like we're a part of what is happening," said Kerry Wong '22. "It feels like we're part of a community when we get to personally thank the donors," Wong said, "rather than just standing by doing nothing."
Everyone who stopped by the Straight to make a donation, give thanks, or help out was given free snacks from Cornell Dining and a taste of Cornell Dairy's newest flavor: Big Red Philanthro-pie. This apple-pie inspired ice cream was made especially for the big day, to celebrate the spirit of giving at Cornell.