The countdown to Giving Day 2019 is underway. On March 14, the Cornell community across the world will come together for a 24-hour celebration of support for all things Cornell. It will be the university's fifth annual day of giving.
"Giving Day is very meaningful for Cornell," said Fred Van Sickle, vice president for Alumni Affairs and Development. "Those of us on our campuses appreciate every single gift, large and small. We are also heartened to see Cornellians around the world gather together as a community to support the university's teaching, research, and outreach."
For last year's Giving Day, 11,750 donors gave 15,807 gifts totaling $7,827,834 for the university's colleges, units, departments, and programs—the highest one-day totals for donors and gifts for one day in university history.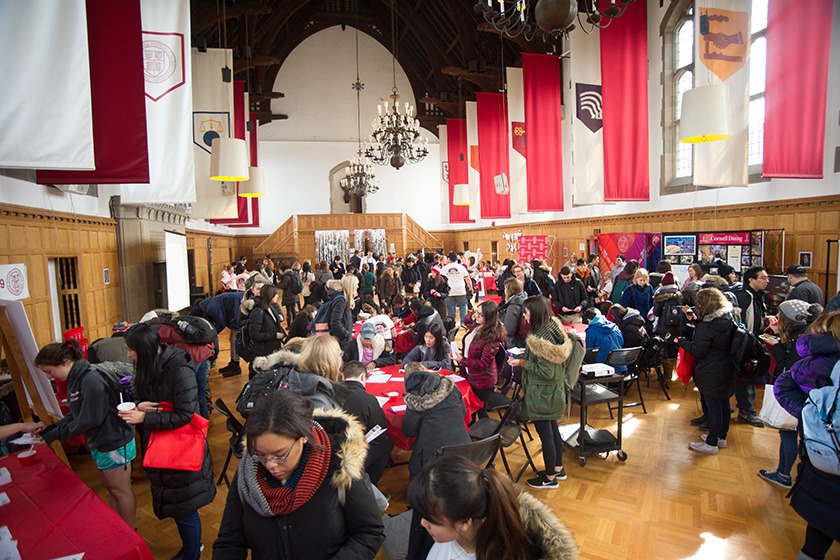 "Last year's record participation from students, alumni, parents and friends shows that Giving Day is becoming a Cornell tradition," said Nicole Cook, director of marketing and donor participation for Cornell's annual giving programs. "We hope as many, or more, people join in Giving Day this year, because every gift adds up to make a huge difference for Cornell."
Giving from the heart
At the core of Giving Day 2019 is financial support that drives change.
"Cornellians care deeply about the specific departments, teams, and organizations that formed their student experiences," Cook said. "Giving Day 2019 allows donors to choose from among hundreds of areas to direct their gifts. This is a great way to support a cause they are passionate about."
Animal health, diversity and inclusion, and the environment are three of the 12 causes that donors can support. Under the umbrella of each cause, donors can select and support their favorite programs.
Online action
Giving Day 2019 will begin at midnight EST on March 14—which is prime time for many Cornellians around the world. The action starts with the First Gift Challenge. The first gift received will trigger a $2,000 bonus to the college or unit associated with the gift.
Throughout the day, good-spirited challenges will keep bonus funds flowing and the online competition between colleges and units keen. This year's challenges include: the 314th gift in celebration of Pi Day (also March 14); the 1,865th gift in honor of Cornell's founding year; and the last of the day. Undergraduate scholarships will receive bonus funds if gifts come in from all 50 U.S. states plus Washington, D.C., and Puerto Rico, followed by additional bonus funds if gifts come in from 50 countries.
"The competition between colleges and units for the most gifts gets fierce," said Ashley Budd, director of digital marketing. Leaderboards on the website track results throughout the day. The new "Raise the Bar Challenge" will reward colleges and units for increasing their total number of Giving Day donors from last year.
On-campus fun
Students also play an important role in Giving Day. In 2018, a record 2,400 students gave Giving Day gifts to the university; 1,300 students wrote thank you cards to donors; and thousands attended a Giving Day event in Willard Straight Hall.
The campus center party will be back on March 14, from 11 a.m. to 2 p.m., offering food, giveaways, and free samples of this year's signature Giving Day ice cream, "Big Red Philanthro-Pie," served by celebrity scoopers. President Martha E. Pollack plans to stop by and share in the fun.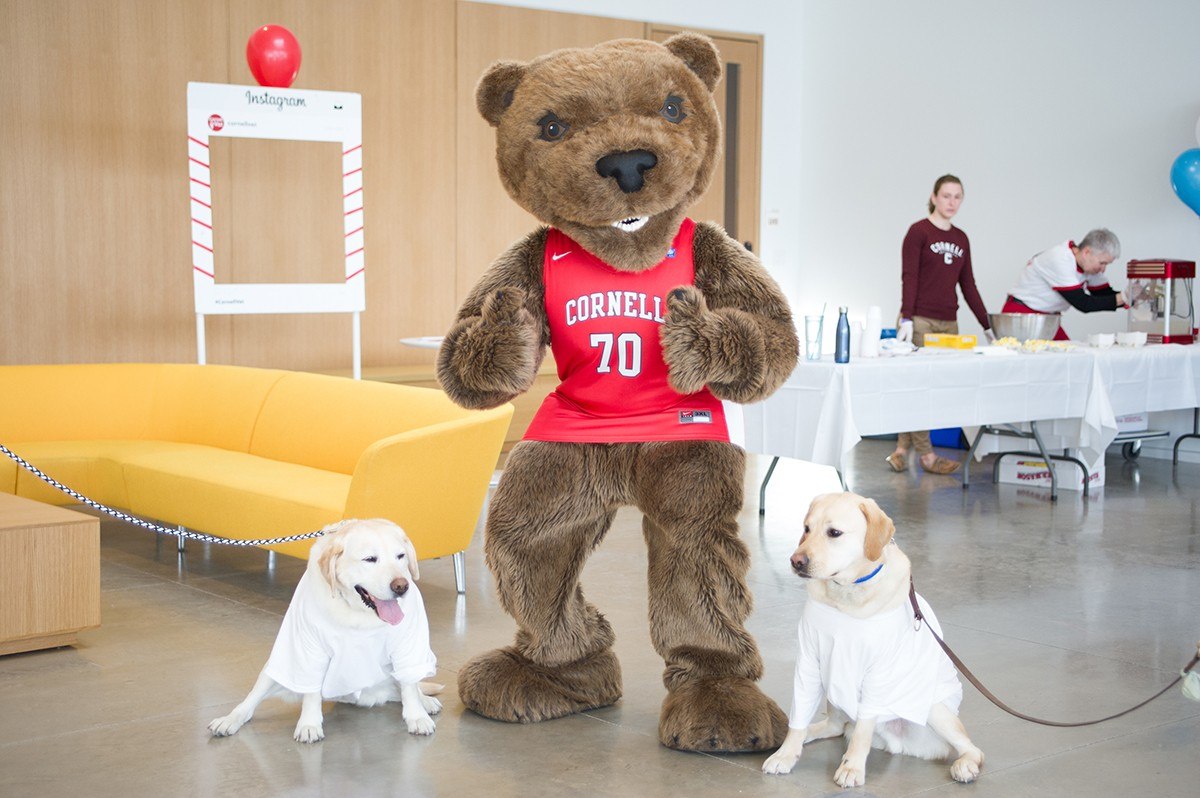 In addition to hosting the Willard Straight event, Student and Campus Life is inviting students to participate in a video challenge on social media: give three reasons you love Cornell, then tap three friends to do the same using #CornellGivingDay.
"We want students to wrap their arms around Giving Day," said Amy Gaulke, assistant director of marketing and communications for Student and Campus Life.
Giving Day will encompass the entire Ithaca campus, with many colleges and units hosting special events, giveaways, and unique giving opportunities. For example, visitors to the College of Veterinary Medicine will have the chance to make their gifts to a "giving dog," a canine friend wearing a Giving Day QR code t-shirt.
This story also appears in the Cornell Chronicle.