Since they were young, Inhee Rebecca "Becky" Lee '02 recalls following her older sister, Jinhee Michell Lee '01, around. Wanting to do everything Michell did was part of Becky's initial motivation for applying to Cornell.
In her senior year of high school, Michell applied to and was accepted by the School of Hotel Administration at Cornell (now called the Cornell Peter and Stephanie Nolan School of Hotel Administration). While helping her big sister move into the fourth floor of Lyon Hall, Becky made up her mind to follow Michell to Cornell.
"Looking up at the big world through the small windows on the fourth floor was like, 'This is what I want!'" Becky says. "Coming from a small town and seeing such a big campus—with students and faculty and staff from different backgrounds—was just amazing!"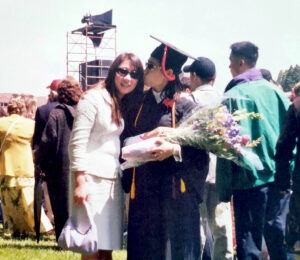 Becky was deferred for early decision (strike 1) and ultimately rejected for regular admission that year (strike 2). While disappointed, she didn't give up on her dream of attending Cornell. She submitted another application as a transfer student and was accepted on her third try.
"I think that's one of the reasons why I cherish my Cornell experience so much," she observes, "since it was such a hard-earned achievement for me."
As a transfer student, Becky felt she had less time than she would have liked to explore Cornell.
"That's why I still visit campus every chance I get, and I'm passionate about volunteering for Cornell so that I continue to connect with the school," she says.
Cornell has given so much to me, and it continues to give… Not only did I get a great education, but I also met some very special people in my life, as a student and now as an alumna.
—Rebecca Lee '02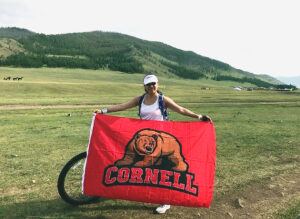 "Cornell has given so much to me, and it continues to give… Not only did I get a great education, but I also met some very special people in my life, as a student then and now as an alumna, including my best friend Wonjeong Angela Park '02, 'Uncle' Martin Y. Tang '70, and all my Cornell friends around the world, young and old, especially my Hotelies. It's a very special bond with my Cornell friends and family—I guess we all share memories of the dreadful knee-deep snowfalls, the beautiful gorges, and the crazy cram sessions before exams!"
Becky first served as vice secretary of Cornell Club of Korea, then, after her move to Hong Kong, as chapter president and regional vice president of Cornell Hotel Society (CHS). She also served on the board of Cornell Club of Hong Kong, and as Cornell University's representative to the Ivy League committee. She is currently second vice president and a global board member of CHS; a member of the President's Council of Cornell Women (PCCW); and a member of Cornell University Council. She's been actively involved in the production of several Cornell Asia Pacific Leadership Conferences—an annual flagship event soon to celebrate its 15th anniversary.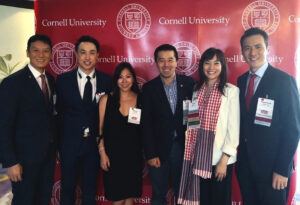 Becky's greatest inspiration for her volunteer service is Martin Tang, a lifelong benefactor and ambassador for Cornell. She recalls a conversation she had with him when she was a new graduate.
"I told him I'm not in a position to give a lot of money to Cornell, so, until I could, I'd give my time. And he replied, 'Cornell relies on the engagement of its alumni, who give both their time and money. It all adds up, no matter the form or amount.'"
It's all about finding the right fit to honor that beautiful intention.
—Hongnan Ma MA '01, P '16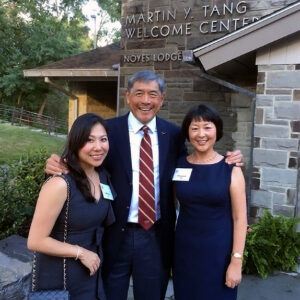 Another Cornellian and friend who's inspired Becky is Hongnan Ma MA '01, P '16, director of international alumni relations. Through the various Big Red endeavors they've partnered on, Becky has come to regard Hongnan as another "jiejie" (big sister in Mandarin Chinese). Shortly before Giving Day 2022, the two were talking and the topic of alumni philanthropy came up.
"I told her I would endow a scholarship if I became a billionaire or celebrity, and that until then, she could count on me to contribute to Giving Day and to the CHS Scholarship Fund. And Hongnan replied, 'Well, I'm not sure you need to wait to endow a Becky Lee scholarship. It's all about finding the right fit to honor that beautiful intention.'"
Over the next few months, Hongnan helped Becky explore what she describes as an "unimaginable" possibility: endowing a scholarship.
As part of its Affordability Challenge, Cornell is incentivizing scholarship gifts with a 1:2 match: The university makes a $1 match for every $2 donated. Typically, the threshold for the match is $250,000, with one exception: For alumni who've graduated within the last 20 years, a scholarship gift above $150,000, which can be paid out over five years, is also eligible for the match.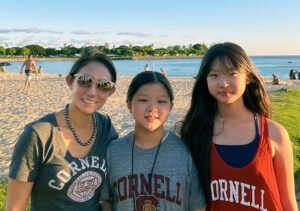 Shortly before Becky's 20th Reunion, the Jinhee Michell Lee '01 and Inhee Rebecca Lee '02 Scholarship was established, combining Becky's generous contribution and the Cornell match.
"While it's still a bit of a stretch, it's not beyond reach," Becky says. "I'm not a billionaire, but if I can help students make their Cornell dreams come true, I'm happy to spend a little less on myself and set aside a little cash to fund this scholarship. My own dreams were achievable thanks to my hardworking parents doing this for me," she adds.
The fund will provide financial assistance to undergraduate students with demonstrated financial need, with a preference for Asian/Asian American students or students who enhance the diversity, equity, and inclusion of Cornell University. According to data collected by Nancy Martinsen, interim senior associate dean of students, more than a third of first-generation students at Cornell identify as Asian-American, and about 20 percent of Cornell's total student population identifies as first-generation.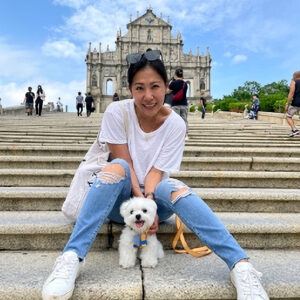 "I hope that it makes a difference for students who have the interest, ability, and dream to attend Cornell," Becky says.
Becky recognizes that sharing her story might be a way to keep on giving. "There may be other alumni just like me—who may not realize their ability to make a difference, change lives, and create a generative and lasting legacy, now."