"We spent about 15 to 20 minutes with each student, and it went over very well," said Charlie Chasin P '15, '19, a managing director at Morgan Stanley.
Chasin connected with students interested in preparing for jobs in business and the financial industry, explaining how recruitment processes work, which courses may be useful, and the benefits of internships, while Dr. Steven Spandorfer P '18, a specialist in reproductive medicine at Weill Cornell Medicine, talked with students who had their eyes on medical school. One student followed up with him and spent part of his summer assisting Spandorfer with his research on infertility.
"I think it was a unique opportunity for the kids," said Spandorfer.
Both men are active members of Cornell's Parents Committee, which sponsored the first-time event, open to all undergraduate students from every college. This year organizers hope to build on its success with a similar event, in April 2017, before the start of the university's annual Family Fellows Weekend.
The effort is just one example of the many impacts Parents Committee members make on both Cornell families and the university.
Steven and Kathy Spandorfer, who currently serve as the committee's national co-chairs, said that members also sponsor welcome events and make outreach calls for parents of new students to build community and assist them in getting to know the university.
"These activities are a nice introduction for parents and provide such a warm beginning," said Kathy.
Chasin and his wife, Liz Chasin '82, P '15, 19, head the outreach committee. Over the past years, they have increased the number of calls they make to new parents. "It's been received so well!" said Liz, who is the oldest of four siblings who have attended Cornell, as have her own children and many nieces and nephews. "Parents have been so appreciative and, honestly, shocked that they get these welcoming calls, given the size of the university."
The work we do through outreach is a way to make a big school a lot smaller and more intimate for people.
—Charlie Chasin
Both the Chasins and the Spandorfers said their connections with other parents are invaluable for sharing logistical advice on buses, visiting campus, and the like as well as discussing substantive matters like campus security and safety, Greek life, housing, and more.
According to Penny Chick, director of Cornell's Parents Program within Alumni Affairs and Development, the committee was created 27 years ago, but in recent years its focus has expanded.
"Parents today want to do more," she said. "They want to be engaged in more ways. Our Parents Committee members are ambassadors for our university to our parent population, and they have a lot to offer. At the same time their participation on the committee and in Family Fellows Weekend, an annual event that we host, give them an inside look at the university from a non-student perspective."
As Kathy Spandorfer explained, "Being part of the Parents Committee helps you feel more connected to the school. You have a better sense of what's going on through connections with faculty, staff, and other parents. And it makes you feel like your child is less far away."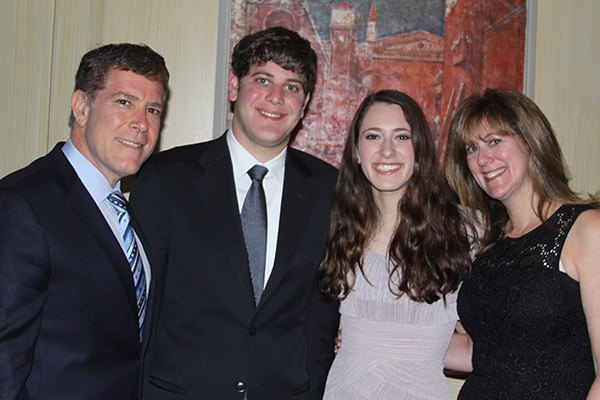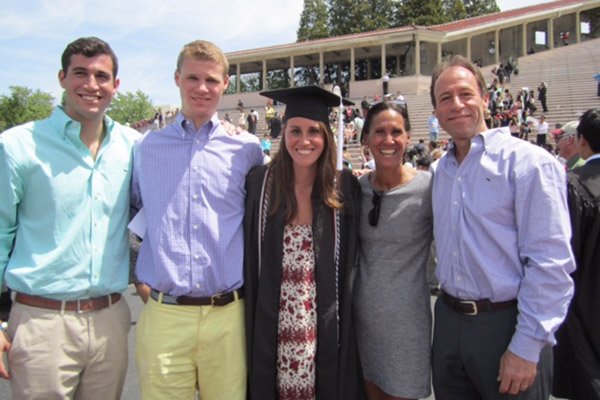 Members are also generous with their philanthropy, giving $10,000 or more annually to support theuniversity, according to Chick. Both the Spandorfers and the Chasins appreciate the difference their gifts make to Cornell and its students.
"Tuition does not really cover the costs of each student's education," said Kathy Spandorfer. "We understand that. We feel like our daughter is getting a spectacular education, and we've very happy to donate where it's needed most."
For Charlie Chasin, whose degrees from New York University were made possible by financial aid and scholarships, it's a chance to give back.
"Anytime you are lucky enough to help the next generation in this way, it honestly feels like a blessing to be able to write a check," he said. "When I was growing up I couldn't dream about doing this, but I was very happy that someone helped me. Otherwise I wouldn't be in the position to help these kids."
Looking ahead, the Parents Committee sees strong potential for increasing parent-student mentoring opportunities. Liz Chasin is enthusiastic about the possibilities. "Parents are a fantastic resource that Cornell can tap into, and there is certainly a lot more we can do to take it to the next level," she said.
In the meantime, Cornell's parent champions continue to bridge distances and build community so that students can make the most of their Cornell experience—and so can their parents.