Lauren Pappas '23 transferred to Cornell in fall 2021. In spring 2022, she received an email from the Senior Class Campaign (SCC) asking for volunteers for the coming year. Not knowing much about the SCC, she checked out the website. What she learned motivated her to step up.
"I learned that annual fund donations go directly back to students. This discovery fully changed my perspective of Cornell," Lauren says.
Over the years, the Senior Class Campaign has helped foster a culture of giving while students are still on campus, during their final year as undergrads. Seniors can direct their gifts to any club, project team, major, or specified resource—like financial aid, LGBTQ resources, or mental health initiatives.
They get to select where their money goes—which is why it's so great.
—Lauren Pappas '23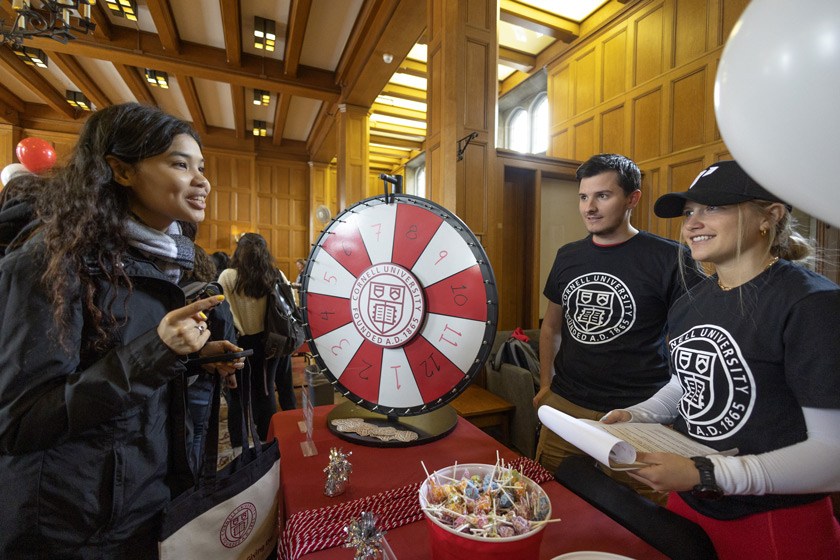 This year's SCC eboard has eight members who spearhead the campaign and encourage their classmates to make a gift that is personally meaningful to them. Lauren is one of two co-chairs.
The eboard educates seniors about how gifts to Cornell help the organizations and programs they love. They do this via email, social media, and—most importantly—through face-to-face conversations with other seniors.
"People ask me, 'What is this SCC thing I see you email me about every few weeks?' I tell them that their gifts go directly back to student life," Lauren explains. "They get to select where their money goes—which is why it's so great."
Since before you were born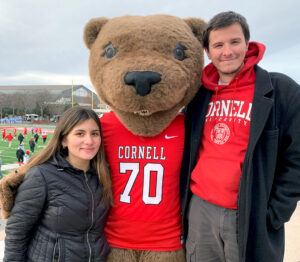 The Senior Class Campaign is a longstanding tradition dating back to the Class of 1872 (Cornell's very first four-year class), which donated 72 elm trees to their alma mater.
According to Cornell history buff Corey Earle '07, most early classes gave physical gifts such as artwork or prizes. The Class of 1904 was the first to contribute to what was then called an 'Endowment Fund.' This became an annual tradition, with classmates pledging to pay $5 per year for 20 years (or $100).
In the 1960s and 1970s, classes once again directed their gifts to specific projects—creating controversy as classmates tried to reach agreement on what they considered a worthy gift.
Today, the SCC has pivoted away from specific class gifts and encourages seniors to choose where they would like to direct their giving.
"We encourage the senior to choose the designation—somewhere close to their heart and that has impacted their time at Cornell," says Chelsea Ghent, associate director of Student and Young Alumni Giving at Cornell, who oversees the SCC.
Cornell opens doors to the world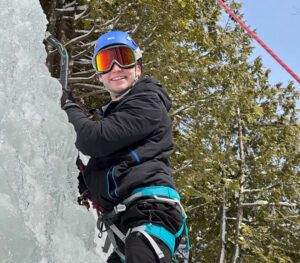 Daniel Morgan '23, SCC eboard co-chair, comes from a Big Red family with alumni spanning four generations. But it was not until he arrived on campus that he realized the value of the Cornell community.
Daniel says that alumni working in his field have encouraged him to pursue a masters degree in biomedical engineering, helped him tailor his resume and job application materials, and given him a head start in his career.
Eboard member Patrick J. Mehler '23, MS '24 has had a similar experience.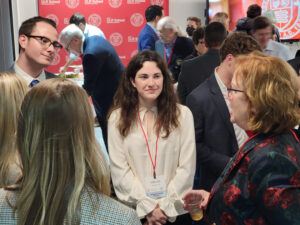 "In addition to tons of advice, alumni have allowed me to shadow them at work, gotten me job interviews, and helped me secure a fully-funded masters degree. Cornell alumni have helped me in hundreds of ways," Patrick says," and I am happy to call many of them my friends."
While at Cornell, these students recognized how much they benefitted from the generosity of alumni.
"Alumni gifts enable us to enjoy programs and clubs that would not otherwise be available to us," Daniel observes. "At the end of junior year, I decided the best way to show my appreciation for everything we've gotten here is to give back, so that future generations of students can experience Cornell to the fullest, like we have."
For many years to come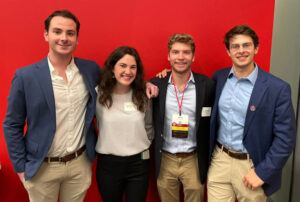 Chelsea says the SCC opens the door for students to begin to understand how philanthropy supports the true cost of a Cornell education. "It starts the conversation of why Cornell needs support from different avenues. Tuition and the endowment don't cover the whole cost, and gifts help to make up that difference."
In her work with the eboard, Chelsea emphasizes the lessons she's learned over the past several years working in Alumni Affairs and Development. She reminds the students not to make assumptions about people's capacity and willingness to give, but rather to ask for a specific amount. This year, for example, the Class of 2023 is asking seniors to contribute $20.23 in honor of their class year. And she reminds them of the power of collective impact.
"A gift of any size can go a long way when combined with those of thousands of students, alumni, parents, and friends," she remarks.
I've learned that people are much more willing to give than I initially assumed!
—Abigail Boatmun '23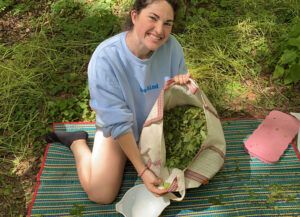 Eboard member Abigail Boatmun '23 shares that her experience with SCC has taught her valuable skills in event planning, communications, and how to mount a successful campaign.
"I've learned how to effectively communicate our goal so that my peers understand why this campaign is important. This is a skill that will be tremendously helpful during my career," she says, adding, "I've also learned that people are much more willing to give than I initially assumed!"
Lauren, Daniel, Patrick, and Abigail will be honored at the annual SCC recognition event on May 24 in the Statler Ballroom. SCC eboard members, volunteers, donors, and their families are joined at this event by Cornell's senior leaders and members of the Board of Trustees.
"The purpose of the event is to encourage future involvement with Cornell University," Chelsea says. "Many of our best alumni leaders and ambassadors began as Senior Class Campaign volunteers and point to their student involvement as a major factor."
As the event sends seniors off with a champagne toast, their lifelong alumni journey is just beginning.