Cornell has a long history of supporting student veterans. About 90 current undergraduate students are veterans, and about 400 veterans, active members of the military, or the dependents of a veteran or active military member study at or work for the university. These students are an important part of the Cornell community and have unique needs that the university works hard to meet every day.
Building a network on campus
Mary Fisk, the student veterans advisor and program manager for Cornell, notes that many veterans come to Cornell with different life experiences from the typical undergraduate student. Her role, established two years ago, is to help these students find their place at the university and feel supported. She works with many partners across campus to help support students with initiatives like summer programs for incoming veterans, a new veteran's seminar, and she helps with recruiting new students.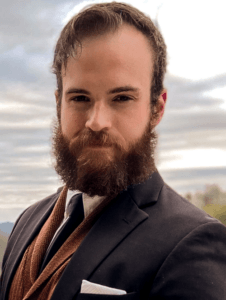 These initiatives make veterans feel more welcome at a school as large as Cornell, says Christopher Mahn '23, a Navy veteran and student veteran ambassador, who works closely with staff members like Fisk to grow the number of veteran applicants and help fellow students excel. "The veteran community has grown exponentially here," Mahn adds.
Kyle Downey, senior associate director of undergraduate admissions/military and veteran admissions and enrollment services coordinator, agrees. "We've made so much progress in recent years by dedicating more resources than ever to recruitment, financial aid, and student support," he says.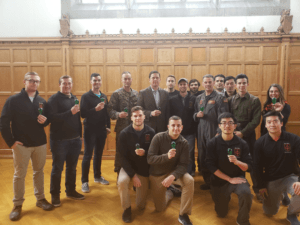 Support for Cornell's community of student veterans often comes in partnership with the alumni network and the student-led Cornell Undergraduate Veterans Association (CUVA), as well. CUVA was a strong voice in the successful effort to establish student veteran housing on campus, which opened this fall.
"They did a fantastic job putting together their proposal and being awarded a house," Fisk says. "Every room is taken, and there's a waitlist. The house takes a lot of stress off of new student veterans who are coming in, and it speaks to the strength of that veteran community."
New programming tied to the veteran house is expected, Fisk adds, and says she looks forward to finding additional ways she and her partners across campus can help provide what student veterans need, like more career exploration and professional development experience.
Alumni gift helps bridge the gaps
One alumnus is helping to make some of these efforts possible, with a recent gift to establish a new summer experience fund.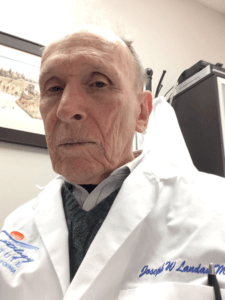 When Dr. Joe Landau '51, MD '55 was a Cornell student, he received a scholarship designated for children of WWI veterans. His father served in the U.S. Army and received a Purple Heart. Landau is a retired Navy Commander, and served as a flight surgeon with the Marine Corps for two years before completing 20 years of reserve duty.
These experiences, Landau says, influenced him when deciding to make a gift to Cornell.
"I always appreciated the education that I received," Landau says, "and I'm pleased to have an opportunity to make a contribution back to Cornell."
Landau recently made a $100,000 endowment gift to create the Dr. JW Landau Summer Experience Fund for Veterans, which will support student veterans or dependents pursuing unpaid summer internships. This gift was also inspired by Landau's granddaughter Simmone '19, whom he says benefitted from summer experience programs while at Cornell.
"I always appreciated the importance of the military and I thought this was an opportunity to combine my interest in Cornell with my interest in the military," he says. "If other alumni are interested, I think there are many additional ways to contribute to the veteran experience."
Landau's gift, says Mary Fisk, will "eliminate the need to exhaust GI Bill benefits" for student recipients. "It just takes a lot of financial stress off their shoulders, to be able to experience an internship the way it's intended. That's an awesome gift."
A bright future for veterans
Fisk says that there are always additional opportunities to support student veterans on campus, and she encourages alumni and friends of the university to reach out and discover ways they can help.
"I'm excited to see the future, and how much more supported our military population is going to be," she says. She hopes more veterans and military members will take a look at Cornell and decide this is the right community for them to join, too.
"I'm excited about how far we've come and the direction we're headed," adds Downey. "Still, we're not taking a break to celebrate our accomplishments, because we still need to enroll more undergraduate veterans, provide a more seamless enrollment experience/transition to Cornell, and work toward creating a dedicated veterans center on campus. There's so much momentum here right now and I'm excited to play a role in this really important and rewarding effort."
Mahn notes that he'd like to make sure veterans who are considering applying to Cornell know the university is "definitely here for them. For student veterans to engage with each other, share ideas, study, and grow the veteran community here and become closer with one another academically and socially—that really lays the groundwork for future student veterans coming to Cornell. If you're willing to put the work in, anything is possible."