"As former dean of admissions and financial aid at Cornell, I am acutely aware of the needs of our students and the impact endowed scholarships have," says Susan H. Murphy '73, PhD '94.
Murphy served Cornell as vice president for student and academic services for over 20 years. Inspired by Cornell's undergraduate affordability initiative, she is ensuring that her 50th Reunion gifts go even further by leveraging the university's challenge match program.
What inspired you to make a gift?
I was inspired by the affordability challenge itself and the fact that it coincides with fundraising for my 50th Reunion, for which I serve as co-chair of our major gifts committee. Our class established a class scholarship at our 15th Reunion, and we have been building it ever since. We would love to reach $1 million before we are done.
If you could talk to a future recipient of your gift, what would you tell them?
Welcome to Cornell! We are delighted you chose Cornell as the place to pursue your undergraduate education. This institution is a remarkable place, starting with our founding when Ezra Cornell and Andrew Dickson White were committed to having students from all walks of life attend and be able to pursue the wide range of scholarly options the university offers. Generations before you have helped make it possible for you to enroll. You also are making a major commitment to be here, and I hope that someday in the future, you will be able to make it possible for those who will follow you to enroll here too. Take advantage of all Cornell has to give you, and share your many talents and interests with others while you are here.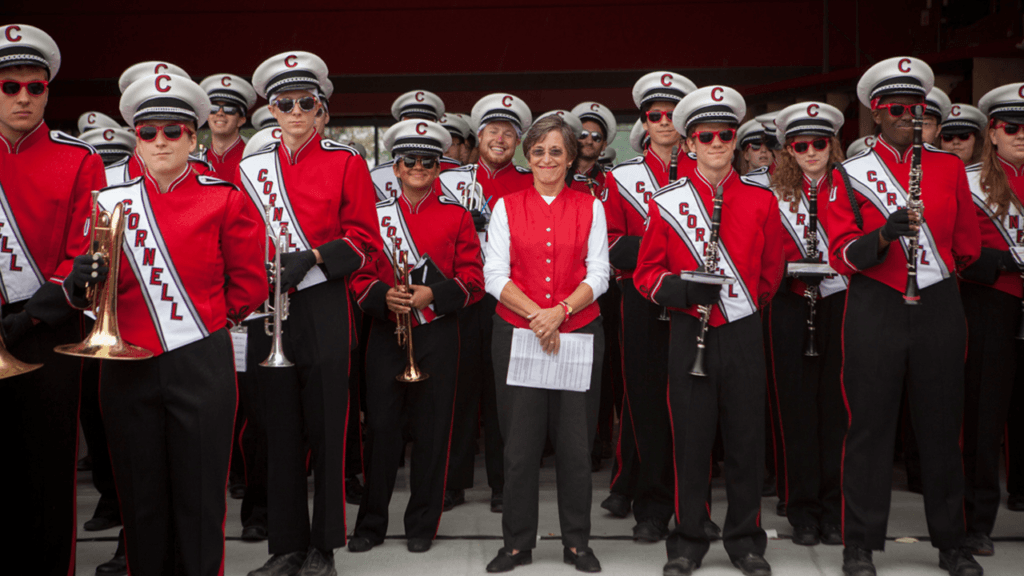 How would you encourage others in your reunion class and beyond to give back to Cornell?
We show the impact that gifts to Cornell have made. For students. For faculty. For programs. We thank them for their previous generosity, and we ask them to help us build the future. We ask our class to help us create a legacy for the Class of 1973.
Doing the greatest good is a big part of being a Cornellian. What does this idea mean to you?
It means making an impact in life—with my family, my friends, my community, and the university. It also means making a contribution of time, talent, treasure, and/or voice to help build a future that may be better than the present.
Our democracy will survive only if we have an educated citizenry who thinks critically and who is willing to take action and express their ideas openly. Cornell has a huge opportunity and obligation to contribute to that effort, especially as the land-grant university for the state of New York.
How are Cornellians positioned to effect change in the world?
In myriad ways. In my opinion, we have an obligation to use our education to make a difference. We can do this through our professional lives, our community lives, and our individual actions. Because we were fortunate to spend time in this special place, interacting with folks like us and very different from us, we know what power exists when you mix people with different backgrounds, different interests, and different experiences. Together, we make better decisions and have a greater impact.