Just six years after Cornell won the bid to create Cornell Tech in partnership with The Technion—Israel Institute of Technology, the new campus on Roosevelt Island in New York City has opened and was dedicated on September 13.
Cornell Tech's early success and future promise spring not only from the visionary ideas and energy of leaders across academic, government, and private sectors, but also from the enthusiastic endorsement of Cornellians and the generosity of individuals, foundations, and corporations.
In all, some 650 donors have contributed more than $770 million in private support.
"Never did I anticipate the groundswell of support that we have witnessed over the past six years," said Daniel P. Huttenlocher, vice provost of Cornell Tech and the Jack and Rilla Neafsey Dean of Cornell Tech.
"After starting from scratch, I am now so proud of what we have accomplished with the critical capital and program support that has allowed us to build a cutting-edge campus committed to sustainability, attract world-class faculty, and support the most talented students so that they can become pioneering leaders for the digital age."
Here are selected gifts that have powered Cornell Tech forward.
Founding gifts
Early transformative support of construction, programs, a global institute, and temporary space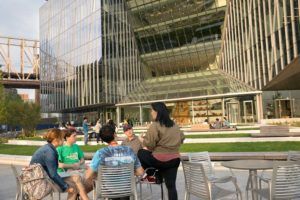 The Atlantic Philanthropies, founded by Charles F. Feeney '56, $350 million| Helped clinch Cornell's bid to create a leading urban campus dedicated to technology, innovation, and enterprise (December 2011)
Irwin M. Jacobs '54 and Joan K. Jacobs '54, $133 million |Created the Jacobs Technion-Cornell Institute, cementing Cornell's and the Technion's ongoing partnership at Cornell Tech (April 2013)
Bloomberg Philanthropies $100 million |Supported construction on Roosevelt Island, including The Emma and Georgina Bloomberg Center, Cornell Tech's first academic building (June 2015)
Verizon $50 million | Supports construction of the Verizon Executive Education Center, which will promote synergy between industry and Cornell Tech's academic community (February 2015)
Google, Inc. $12-million value | Provided 22,000 square feet of temporary space for Cornell Tech in Manhattan during the first phase of construction on Roosevelt Island (May 2012)
Faculty and student support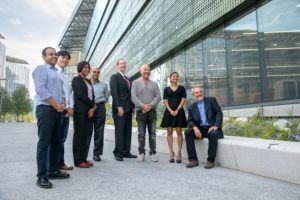 Endowment gifts for professorships, fellowships, and other position support
Joelle Burnell and Roger W. Burnell '66| Roger and Joelle Burnell Chair in Integrated Health and Technology
Dyson Foundation | Charles H. Dyson Professorship of Management
John (Jack) P. Neafsey '61, MEng '62, MBA '63 and Rilla Neafsey | Jack and Rilla Neafsey Deanship
Girish V. Reddy M. Eng.'78, MBA '80 and Jaidev Reddy '11 | Girish and Jaidev Reddy Professorship of Practice
Demir Sabanci MBA '99 | Demir Sabanci Professorship of Marketing and Management
James. H. and Marilyn H. Simons | James H. and Marilyn H. Simons Graduate Fellowship
Robert F. Smith '85 | Robert Frederick Smith Tech Scholars Program
Andrew H. Tisch '71 and Ann R. Tisch | Andrew H. and Ann R. Tisch Professorship (Jacobs Institute)
Estate of Robert V. Tishman '37 and Tishman Speyer Properties | Robert V. Tishman '37 Founder's Chair
Sanford I. Weill '55 and Joan Weill | Weill Endowed Founder's Chair (Jacobs Institute)
Program, capital, and other support
Ira Glener
Lowell McAdam '76 | Provided generous resources to be designated at a later date
David Siegel | Provided support toward research and software development efforts at Cornell Tech and support for K-12 educational programs