Last fall, in honor of his upcoming 20th Reunion, Alan Zhou '03 took advantage of Cornell's affordability challenge and made a gift to establish the Alan and Chelsea Zhou Family Scholarship. The fund will provide financial assistance to undergraduate students with demonstrated financial need, with a preference for students from the states of Maine, Oklahoma, and Texas.
With 2023 being my 20th year away from the Hill, my heart told me the time was now.
—Alan Zhou '03
Alan, who was born in Beijing, moved to the U.S. when he was ten so his mother could attend college. They moved to Presque Isle, Maine, a community of about 10,000 people located 15 minutes south of the Canadian border. At the age of 45, Alan's mom, Helen Zhang, enrolled as an undergraduate at the University of Maine at Presque Isle.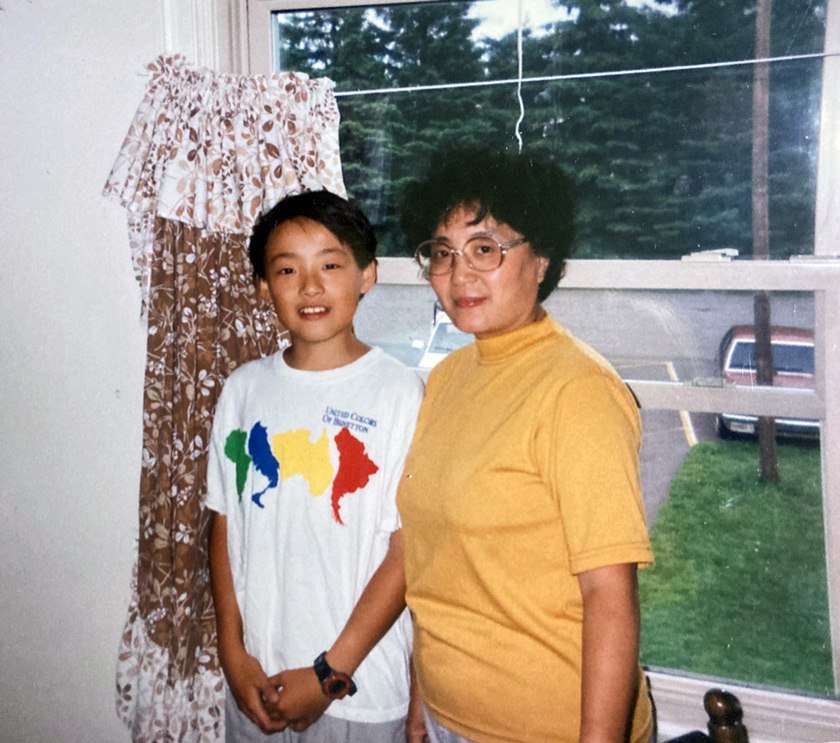 "Back in China, my mom had never gone to college because university doors were shuttered during the Cultural Revolution," Alan explains.
After graduating, Helen moved to Norman, Oklahoma, where she earned an MBA from the University of Oklahoma. Alan, an only child, moved around the country with his mom, while she pursued her education and a career in telecommunications in Texas. Alan's father worked in another state—as a night manager at a residential facility for people struggling with addiction and mental illness.
Alan's family didn't have much in those days, and he was deeply impressed by the generosity and kindness of their U.S. neighbors. "In the cold, snowy winters of Maine, strangers would stop their cars on the side of the road and offer us rides," he recalls. "In Oklahoma, when my 9th grade counselor learned I might not be getting enough to eat (I was seen taking food home from the school cafeteria), she and the school principal showed up at my home unannounced with boxes of food and gift cards to the grocery store. And, in Texas, there were many teachers and classmates whose encouragement and friendship still touch me today."
From Cornell student to alumni volunteer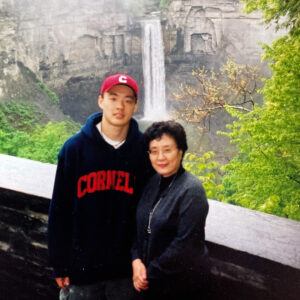 As a student at Cornell, Alan relied on a combination of government grants, university aid, his mother's savings, student loans, and working side jobs—including as a fireman at the Collegetown fire station, where he worked 30 hours a week in exchange for free housing.
Coming from a home where he rotated wearing three t-shirts and scoured the grocery aisles for deals, Alan says that he relished his life at Cornell. "The campus was idyllic and breathtaking. The people were smart and interesting, and they all seemed to walk with springs in their steps. And the food—oh, the food! Eating in the cafeterias was an exercise in seeing how much I could stack onto those trays before it spilled off. I was hungry in all senses, and I wasn't going to spare any morsel."
Alan dove into his college experience, from rowing on the crew team, to pledging a fraternity, to skiing at Greek Peak and attending Big Red hockey games. He thoroughly enjoyed his years at Cornell and made lifelong friends.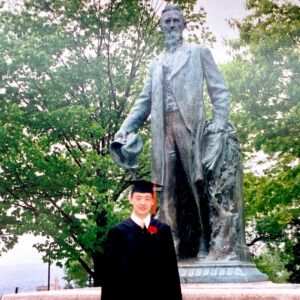 His volunteer journey began on campus with a stint as president of the Chinese Students Association. When he got his first post-graduation job as a consultant for Accenture in NYC, he served on the board of the city's Cornell Asian Alumni Association. He's also been interviewing applicants as part of the Cornell Alumni Admissions Ambassador Network for nearly 20 years.
After he returned to China, he remained active—serving as co-president of the Cornell Club of Beijing for about five years. During this time, he was instrumental in expanding the club's membership from around 300 alumni to more than 1200.
From one Cornell Club to many
Early in his term, Alan realized there were many alumni who were "off the radar," and that, if nothing changed, this population would keep getting bigger.
"With the number of Chinese students enrolling at Cornell growing every year, our alumni base in China was looking to balloon even further. We recognized the need to build up the alumni community to serve the needs of Cornellians here—not only to enrich their social life after the Hill, but also to promote professional ties between alumni and contribute to the future of the university."
He and co-president Tanni Wu '06 increased their outreach and began organizing events throughout the year, many involving recent alumni—or what Alan calls "the next generation of club leaders." These strategies helped reinvigorate the club and increase engagement with and giving to Cornell.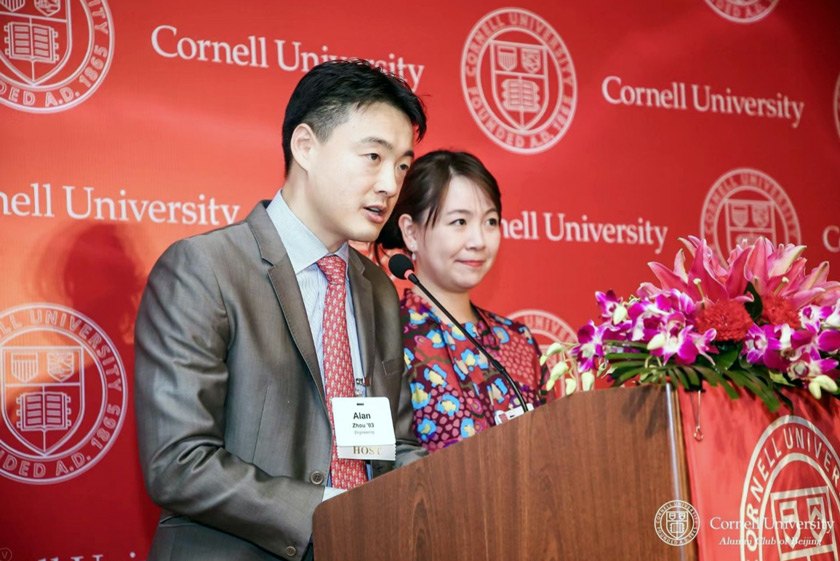 Alan and the other members of the Cornell China Alumni Advisory Board (C-CAAB) recognized that international participation in Cornell Giving Day was not as robust as domestic participation. To jumpstart international giving, Alan and fellow C-CAAB members (Victor Tchou '06; Tanni Wu '06; Zoe Wu '93, MPS '94; and Kuantai Yeh '89, MEng '90, MBA '98) joined with the Cornell Asia Alumni Leadership Advisors to launch the Giving Day Global Cornell challenges. In 2021 and 2022, C-CAAB and CAALA leaders donated the challenge funds, which were unlocked when international participation and giving targets were met.
Hongnan Ma MA '01, P '16, who serves as director of international development in Asia, and her team helped behind the scenes to ensure that Cornell could accept donations from international payment platforms such as UnionPay in China. This smoothed the way for alumni around the world to use their credit cards to make gifts on Giving Day.
"Our promotions opened a floodgate for donations from China-based alumni, which snowballed to include other international clubs as they also caught wind of our Global Cornell Challenges," Alan explains, adding, "There will definitely be another one this year!"
These challenges helped mobilize global giving and double the number of international gifts made on Giving Day—from 440 in 2020, to 829 in 2022.
"Alan's personal story is a powerful one which highlights how volunteerism and philanthropic commitment go hand in hand," observes Hongnan.
From volunteer to Big Red donor
Over the years, Alan has been deeply inspired by the Cornell alumni he's had the honor to work with and their fervent support for their alma mater. But his reasons for giving back are rooted in his own experiences as a kid growing up in the U.S., when his neighbors reached out to help him and his mom.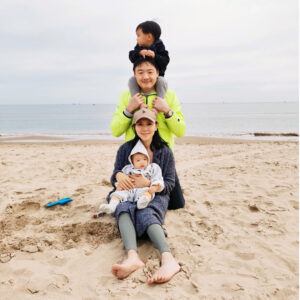 "I am forever grateful for their kindness and still feel very indebted to the great states of Maine, Oklahoma, and Texas," he says. "When setting up my scholarship, I wanted to pay back that debt and help out students from those three states."
Increasing undergraduate affordability is a key priority of Cornell's To Do the Greatest Good campaign. Through its affordability challenge, Cornell is incentivizing scholarship gifts with a 1:2 match: The university makes a $1 match for every $2 donated. Typically, the threshold for the match is $250,000, with one exception: For alumni who've graduated within the last 20 years, a scholarship gift above $150,000, which can be paid out over five years, is also eligible for the match.
When he learned about the Cornell's affordability challenge and the match that was available to more recent alumni, Alan was inspired to give.
"My personal experiences have taught me firsthand how important a top-tier college education is. It changed my life, and I always planned to pay it back so that some other kids can also get that same chance," Alan says. "With 2023 being my 20th year away from the Hill, my heart told me the time was now."