John P. Neafsey '61, MEng '62, MBA '63 and his wife, Rilla, have endowed the top academic leadership position at Cornell Tech, currently held by Dean and Vice Provost Daniel P. Huttenlocher.
"The opportunities for Cornell Tech are boundless, and it has done extraordinarily well in getting underway," said Neafsey, a retired Sun Co. executive and investment consultant. "I'm delighted that Cornell Tech is at the forefront on the East Coast, rivaling Stanford on the West Coast, and that we are emerging as a recognized world leader in the field of technology."
The gift to establish the Jack and Rilla Neafsey Deanship provides an endowment to fund the position in perpetuity.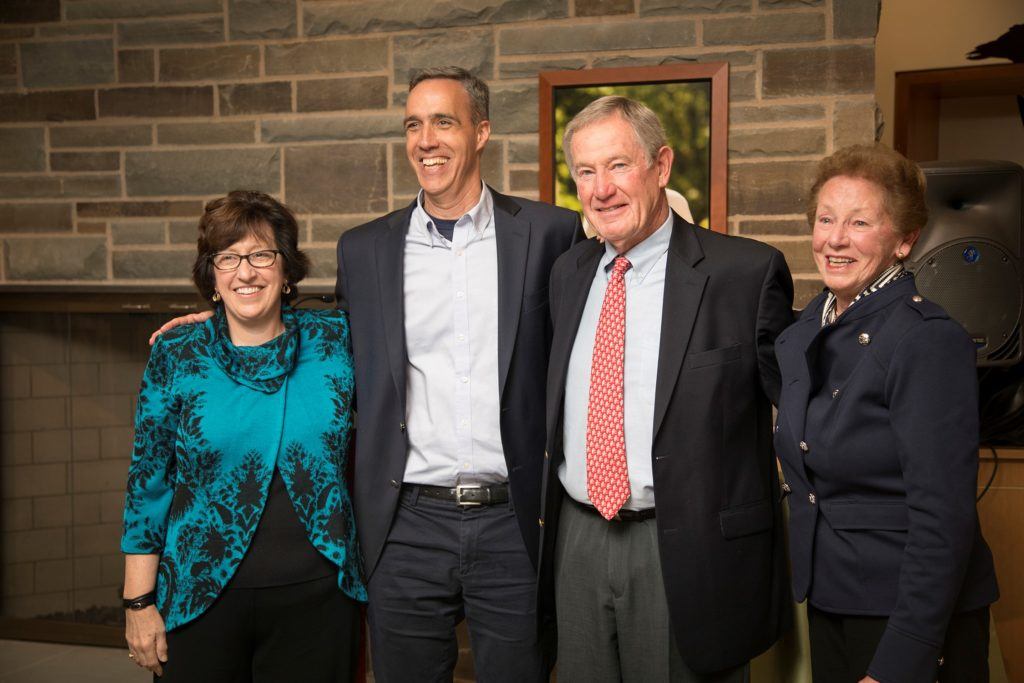 "I am profoundly honored that the Cornell Tech deanship has been so generously endowed by Jack and Rilla," Huttenlocher said. "At Cornell Tech, we seek to create leaders who can bridge the fields of tech and entrepreneurship, so it is only fitting that this leadership gift came from Jack, who himself has had an extremely successful career bringing innovations in engineering to life through his business acumen."
A Cornell trustee emeritus, Presidential Councillor and Foremost Benefactor, Neafsey has long believed that, to educate and lead for innovation, institutions need to integrate business with technology and engineering fields and to blend study with practice—principles that inspired him to help drive milestone achievements in Cornell's business, engineering, and computing education over decades.
"The opportunities for Cornell Tech are boundless, and it has done extraordinarily well in getting underway."
—Jack Neafsey '61, MEng '62, MBA '63
Neafsey visited Cornell classrooms as early as the 1970s to teach finance as a practitioner and for many years served as an adviser to Cornell's business, engineering, and medical schools. He also has championed initiatives in student life.
In the 1980s, he chaired the $46.6 million capital campaign that secured a $20 million gift from the Johnson family and led to renaming the business school the Samuel Curtis Johnson Graduate School of Management.
He was elected a Cornell trustee in 1986 and held active membership on the Major Gifts Campaign Committee, chairing the National Regional Campaign for the Cornell campaign, Creating the Future.
He recalled that when several universities were recruiting Huttenlocher, Cornell believed it would take a chair to compete for the computer scientist—prompting Neafsey to endow a professorship in computer science and information technology, with a joint appointment in the engineering and business schools.
During the 1990s, after Huttenlocher chaired a task force convened by the provost that led to the creation of the Faculty of Computing and Information Science (CIS), he became one of the first professors appointed to the school's faculty and held its first named professorship.
The two continued to stay in touch after Huttenlocher was appointed dean of CIS and then dean of Cornell Tech. In recent years, Neafsey has stayed informed about Cornell Tech through conversations, touring the construction site and visiting with Cornell Tech students.
He likes what he sees.
"Dan is terrific at recruiting faculty," he said, "and has broken the mold in some ways, hiring not just academic PhDs, but individuals without PhDs who are really good at what they do. He has created a first-class faculty."
Cornell Tech is attracting a higher caliber of students and a greater number of them, he noted. Last spring, he sat in on an Open Studio, an event for student teams to pitch ideas for startup companies. "The students were very energetic and the event simulated what goes on in the real world. Teamwork is how things get done," he said, "and fostering teams distinguishes Cornell's teaching."
Neafsey said he owes a debt to Cornell, which "was very good to me and gave me support. I held a lot of jobs on and off campus to pay my room and board, but Cornell gave me a full tuition scholarship for six years. That's part of the reason why I give back."
Looking ahead, Neafsey sees promise and opportunity for Cornell Tech.
"We're just beginning to understand how to stimulate creative careers in technology, computer science, engineering and other disciplines," he said. "We're still in infancy when it comes to the art of encouraging innovations that produce contributions to society and the ways in which we live."